July 19th, 1964 USRRC Coverage from the Des Moines Register
I found some good coverage of the July '64 USRRC race in the Des Moines Register on microfilm. It adds context to the race results I think. The big favorite was Jim Hall in the Chapparal so most of the pictures surround him. There were a few blurbs throughout the week leading up to the race, coverage of teching the cars which involved braking from speed at the Des Moines Airport, coverage of the qualifying sessions on Saturday, and of course race results from Sunday. I will start with the race results below and work backwards in time.
From the Des Moines Register, Monday, July 20th, 1964
18,500 Watch Ed Leslie Win At Greenwood
Newest Member of Shelby's Cobras
by Brad Wilson (Register Staff Writer)
INDIANOLA, IA. -- Ed Leslie, 42-year-old former bomber pilot of World War II and Korea, beat the heat and a field of crack drivers here Sunday to win the U.S. Road Racing Championship before 18,500 at Greenwood Roadway.
Leslie, who joined Carroll Shelby's Cobra racing team only this season, let the race through the final 32 laps after catching driver-point leader Jim Hall of Midland, Tex., in the pits for an oil stop on the twenty-third lap.
Loses Wheel
Hall, Saturday's qaulifying leader, was in his No. 2 Chaparall-Chevrolet after losing a wheel on his No. 1 car during a practice warmup Sunday morning.
His second car blew a piston ring and the 29-year-old Texas oil man finished the race on seven cylinders to take third place in the over-all standings and second in the drivers' competition in the over-figure 2 Liter class.
Second place in the overall finish went to Bill Wuesthoff of Milwaukee in his under 2 Liter Elva Porsche in which he was never worse than fourth throughout the race.
Ken Miles of Venice, Cal., competition manager for the Cobra team came home fourth in the overall finish without any brakes the last 30 laps to win the Grand Touring division. Only siz G.T. cars finished.
Another Cobra outfit owned by Charlie Cox of St. Paul, Minn., was fifth in the overall finish and placed third behind Hall in the over-2 Liter sports class.
Leslie, who had never raced Shelby's Cooper outfit before stepping into the 289 cubic inch rear engined car to qualify Saturday, averaged 87.24 miles per hour for his 55 laps.
Saturday, it had been erroneously announced that Skip Scott, another Cobra driver, had qualified the Cooper. Leslie averaged 90.91 in the early going when he was chasing Hall. He was one minute 47.4 seconds ahead of Wuesthoff when he crossed the finish line.
Leslie's fastest speed through the radar trap was 144 miles per hour. The triumph was worth $2,000 and nine points in the driver standings. Wuesthoff collected $1,700, and Miles $1,200.
Charles Hayes, Chevy Chase, Md., the No. 2 man in the drivers' standings, broke an axle in the twenty-sixth lap and did not finish. Chuck Parsons' Cobra caught fire on the fifth lap. He managed to get back in the race, although failing to finish. A total of 10 starters did not finish.
John Whitmore of Cheshunt, England, who bares the title of "Sir" in London Court circles, won the under-2 Liters Grand Touring class in his Lotus Cortina.
Lynn Blanchard, service station operator from Franklin, Wis. captured the Formula VEE 51 mile race against a field of 15 of which only eight finished in the $1000 Volkswagon-engined grind worth $800 to the winner.
He was timed in 72.58 m.p.h. average for his laps. He is a former national champion in G Production. Third and fourth money went to John Maher and John Wessale, both registered out of Iowa City.
There were a number of flips and spin-outs during the hot afternoon, but no serious injuries were reported.
From the Des Moines Register, Sunday, July 19th, 1964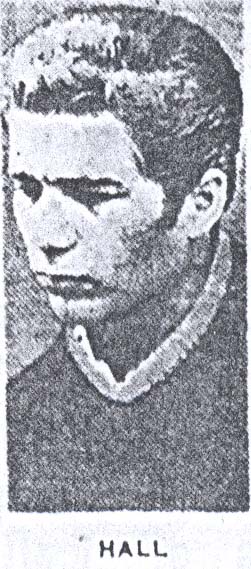 Texan Hall Leads Road Race Trials
By Brad Wilson (Sunday Register Staff Writer)
INDIANOLA, IA. -- Jim Hall, a tall Texan with a heavy foot on the gas pedal, Saturday put his 300 Chaparral-Chevrolet at the head of the parade for today's $9,000 165-mile U.S. Road Racing Championship event at Greenwood Roadway.
The 29-year-old oil producer wheeled around the 3-mile paved course at a 92.31 mile per hour lap to grab the inside pole position.
Alongside him on the outside will be teammate Hal Sharp in another Chaparral-designed rear-engined sports car which clocked 90.45 m.p.h. in the time trials watched by 5,000.
Joe Hayes of Chevy Chase, Md., who trails Hall in the drivers' standings, 33-27, was on the grid directly behind Hall with the third-fastest lap of 88.32 in an Elva Porsche.
About the only excitement of the hot afternoon came when mechanics of the Carroll Shelby Cobra team were picked up on Highway 69 by the Iowa Highway Patrol for driving cars on the highway without a license.
167 M.P.H Stretch
Hall, whose cars are using a new semi-automatic shift, warmed up his Chaparral at the 139 m.p.h. through the speed trap located between the third and fourth corners of the course. He then came through to the same stretch during his fastest qualifying lap at 167.5 m.p.h.
His 92.31 lap broke the track record of 84.90 set by Dr. Curt Gonested of Monroe, Wis., in a Lotus 23V a year ago.
Wuesthoff Next
Back of Hayes in the class for cars under 2 liters was Bill Wuesthoff of Milwaukee, Wis., with an 88.24 time. He trailed overall fourth-best Skip Scott, a member of the Chevy Cobra team who clocked his best lap in 88.67.
Ken Miles 'English' driver, led the Shelby's grand touring qualifiers with an 87.80 time. All but Hayes and Wuesthoff, who drive an Elva - Porsche are in the over 2 litre class.
Prominent casualties among the non-qualifiers included Al Unser, 25 year old brother of Bobby Unser of Pikes Peak Hill Climb fame. Bobby, who had been entered here, instead has a date today in a sprint car race at Trenton, N.J.
Halfway back in the field of 36 cars is Dick Durant, the St. Louis aeronautical engineer who steered his self-built Pontiac in an 80.32 lap. Durant won the regional meet here in May.
Formula V outfits which will run for $1,000 today in a 51-miler, will be headed by James Place of Waukegan, Ill., in his Volkswagon-powered Formcar. Place averaged 76.92 in his best lap.
From the Des Moines Register, Saturday, July 18th, 1964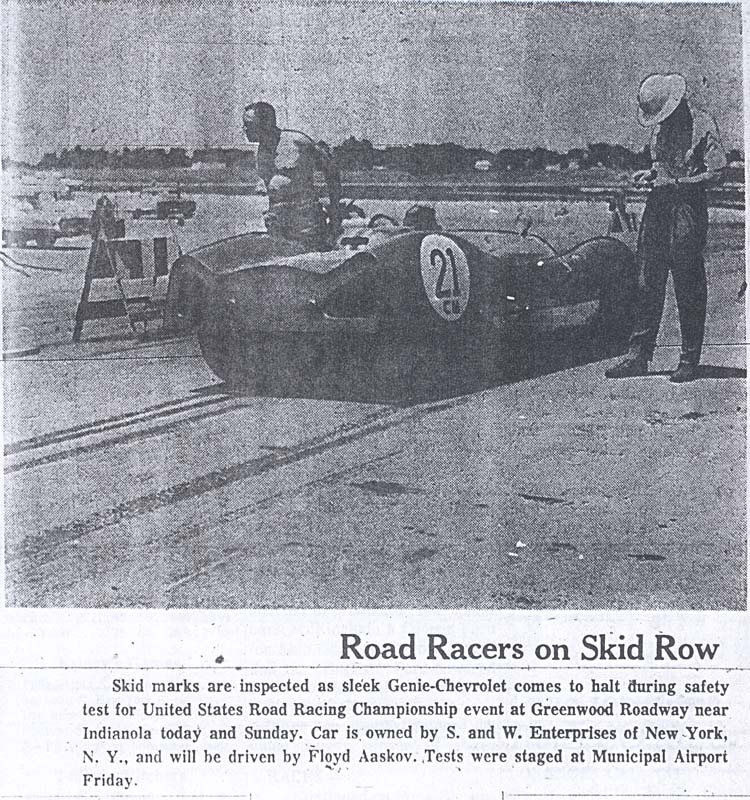 Greenwood Road Racing Trials Today
By Brad Wilson
Big-time road action takes over the Iowa racing scene this weekend, starting with time trials at 1 p.m. today for the $9,000 United States Road Racing Championship at Greenwood Roadway.
Nearly 40 drivers of national fame had signed in Friday for Sunday's 165-miler over the challenging 3 mile course located eight miles south of Indianola on Highway 65.
This is the seventh of 10 U.S.R.R.C. events sanctioned by the Sports Car Club of America this season.
Drivers include Jim Hall, top point leader with three triumphs in his Chaparral-Chevrolet; Charles Hayes of Chevy Chase, Md., in and Elva-Porsche; Hap Sharp, Hall's Chaparral team-mate; and Ken Miles, Hollywood, Cal., team captain of the famous Shelby Cobra Ford team.
Miles' team, which is leading the manufacturers race, restricted to production line sports cars, will include a Cooper Ford for Skip Scott of Devon, Penn., and an English Ford-powered Lotus 23 for John Morton of Hollywood, Cal.
Other top names entered include Bobby Unser of Pikes Peak fame in a Lotus 23-B; Floyd Aaskov, Yonkers, N.Y. in a Genie-Chevrolet; Chuck Stoddard, Willoughby, Ohio, in an Alfa Romeo TZ, and Hamilton Vose, Chicago, in a Cooper-Maserati.
The added 51-mile attraction a $1,000 Formula Vee race, which starts Sunday's program at 1 p.m., had produced less than two dozen entries, far short of the total anticipated.
Admission for today's warm-ups and time trials is $1.50; Sunday's admission is $3.50.
There actually will be four races in one Sunday. Involved in the drivers and manufacturers' competition are two classes of cars in each division: Cars over 2 liters (2,000 cubic centimeters or 122 cubic inches of piston displacement) and those under 2 Liters (U-2 in race summaries).
The drivers race includes cars built specifically for racing, open cockpits, but with covered wheels with modifications in engines and accessories.
In the over 2-liter class (O-2) are such well known names as Ferrari, Chaparral Chevrolet, Cooper Chevrolet, Cobra Ford and Corvette Stingray. Under 2-liter include Lotus 23 Ford, Elva Porsche, Elva-Ford and Elva Mark VII.
The manufacturers championship featuring grand touring cars are those off the production lines with certain safety changes permitted. Most have tops and all have covered wheels and must have over 100 models produced in a single year.
The O-2 class includes Cobra Ford, Ferrari GTO, and Corvette Stingray; the U-2 class: Cortina Ford, Triumph, Porsche, Alfa Sprints.
From the Des Moines Register, earlier in the week of July 13th, 1964
A Cobra Clash at Greenwood
Charles Cox of Minneapolis, Minn., will bring his King Cobra to Greenwood's United States Road Racing Championship race this weekend to challenge the Carroll Shelby King Cobra.
The King Cobras have been almost as successful as the Chaparrals in the six road racing events of the championship series already completed this season. Bob Holbert won the drivers' championship in a King Cobra for the 1963 United States Road Racing Championship series.
The Shelby Cobra will be driven by Skip Scott of Grosse Point Farms, Mich. Technical inspection for the cars will be from noon to 5 p.m. Friday at the Des Moines Airport.