Greenwood Roadway, Indianola, Iowa
Greenwood Roadway (also known as Raceway) was only open for 4 years, 1963 - 1966. But luckily it has survived all these years although access to it has been limited. I was fortunate to be able to drive on it this last weekend with a group from the Mustang Club of Central Iowa who hopes to restore it in some manner for it's historical significance.
During the 3 years it was open Greenwood was host to many significant SCCA / USRRC races. Here are the results of the USRRC race from July 19, 1964. You'll notice it reads like a whos who of cobra racing and 60s sports car racing in general. I also would like to point out the 85 mph average speed and the fact that Ed Leslie in a King Cobra lapped Ken Miles in a Cobra twice in 55 laps! I continue to be impressed by what was accomplished with the fragile little King Cobra (Cooper Monaco with Ford 289).
Greenwood USRRC 7/19/1964 Results
Greenwood USRRC Race Coverage from the Des Moines Register
Here is an interesting story I've heard about Greenwood, although I'm not sure yet which race this happened at. This was told to a friend of mine by John Morton and later corroborated by Caroll Shelby himself, so I'm pretty sure it's true.

While preparing the cobras to race at Greenwood the mechanics just couldn't get chassis set right. They decided they needed an alignment rack and arranged to use one at Capitol Ford in Des Moines that evening. Rather than fool with the transporter some of the drivers and mechanics decided to just drive the cars into town. (note there were 5 cobras at the July 19th, 1964 race, not sure if this is when the story happened or not) For the first part of the drive they had a Warren County sheriffs department police escort but the escort pulled over when they got to the end of their jurisdiction. The Des Moines police were all over them as soon as they got into town. They did manange to talk the police into letting them deliver the cars to Capitol Ford before all of them were hauled off to jail! Somehow they got ahold of Caroll back at the track and he came in and bailed them all out, but he evidently wasn't any too happy about it.

Greenwood Windshield Tour (Photos by Duncan Brandt)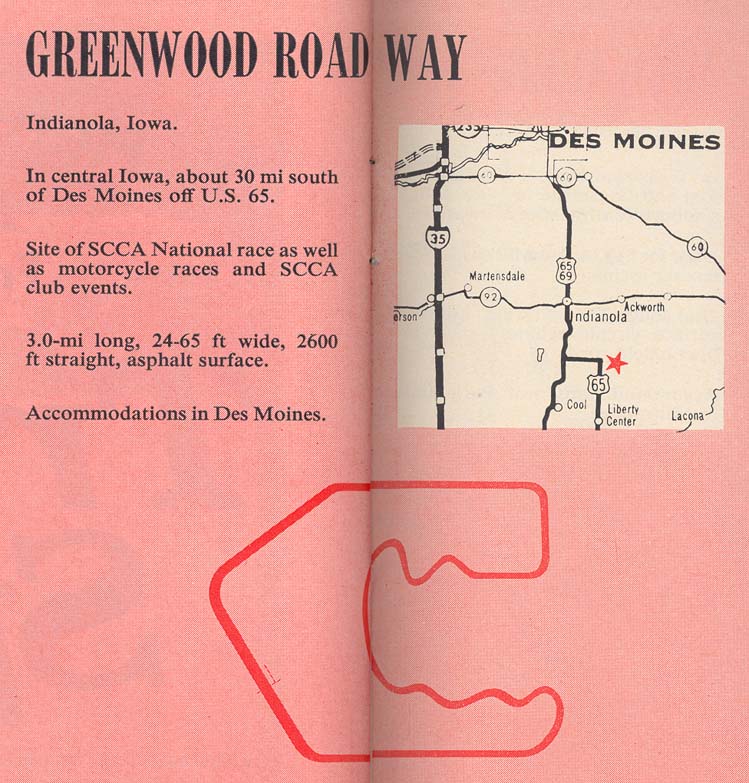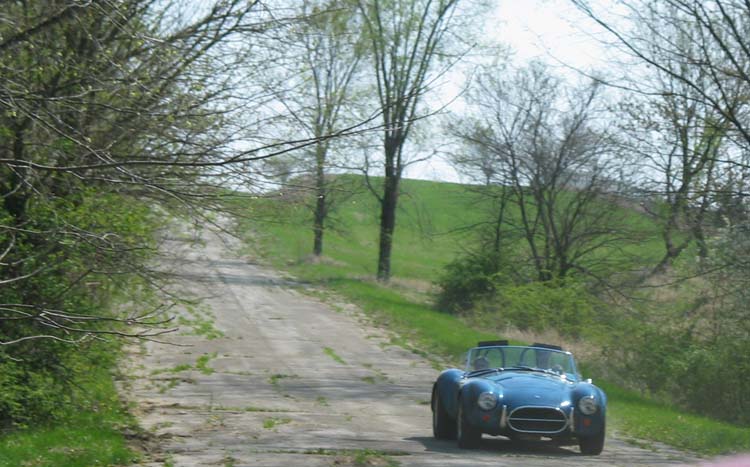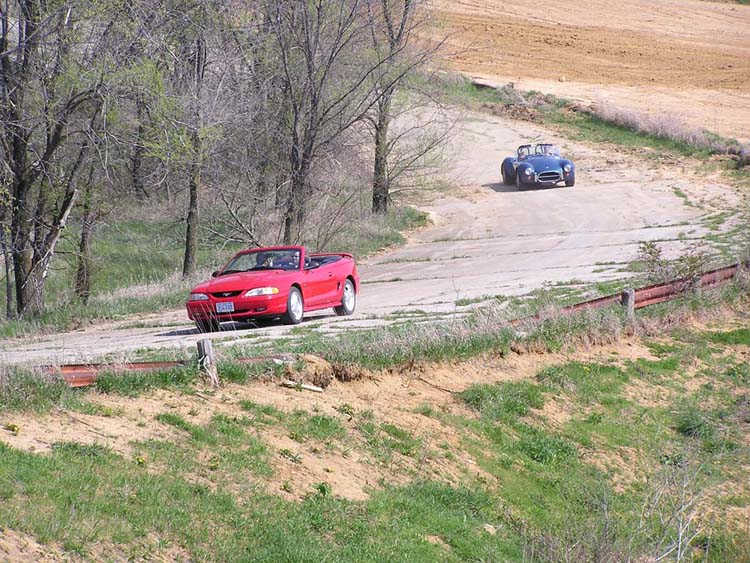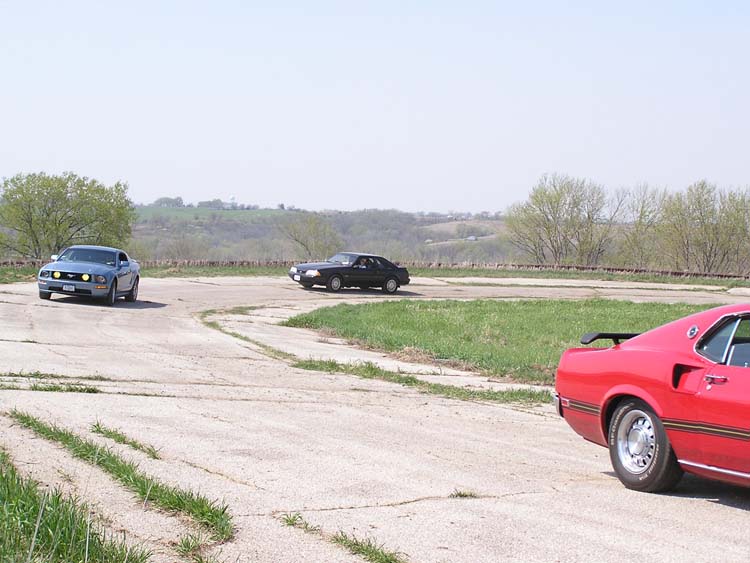 July 7, 2005
Not good news on the Greenwood Roadway front today. This was in the Mustangs Of Central Iowa newsletter:
"Their (the owners of the property) Board met and decided they don't want to do anything now because they
are concerned the facility's additional use as a racetrack would disturb their apprenticeship program. Money is
supposedly not the issue. They don't plan to alter the existing track in any way. Other car clubs have also
contacted them about upgrading and using this track."
Doesn't sound good to me...
February 24, 2006
I got an e-mail recently from a nice fellow named Julian Silverberg. He and his wife Karen ran the timing crew at SCCA races at Greenwood. Julian provided the race program below from the USRRC race, and the entrant list, and official timing charts! Below is a photo collection taken by Bill Swartz during the USRRC July 19th race weekend. Bill's photos are in the gallery below, I'd like to thank him at least a thousand times for sharing them with us. And of course thank you Julian for providing all this great information!
Greenwood USRRC Race Program July 18-19, 1964
Greenwood July 18-19, 1964 Official Timing Chart

Supposedly of the secret Chapparal automatic transmission

USSRC race start
Note the King Cobra behind the Chapparall

USRRC race start

Ed Leslie (in helmet & goggles) looks over the Chaparal.

Elva Porsche

Cheetah - The Cro-Sal Special
Later became the only Cheetah Roadster. See http://www.cheetahcars.com/crosal.htm

Someone (in an Elva?) talking to Carroll Shelby
Anybody know who the others are in the picture?
February 25th, 2006
After seeing the new info, I heard from Brian Parker and he sent me this great program from the June 8-9, 1963 SCCA Regional Races. It may have been one of the first races at the track. Can anyone confirm this? Thanks Brian!
March 5th, 2006
I had forgotten a few more Greenwood Roadway pictures that were sent to me by Larry Latham (Thanks Larry!). They are from the USAC stock car race which I believe was run June 13th, 1965. Supposedly wet weather and the weight of the stock cars caused the track surface to break up during this race and the track owners could not afford to repair it. This race may have been the beginning of the end for Greenwood. The only results I have at the moment are that the winner was Norm Nelson and Lou Burmeister finished 8th, both in Plymouths.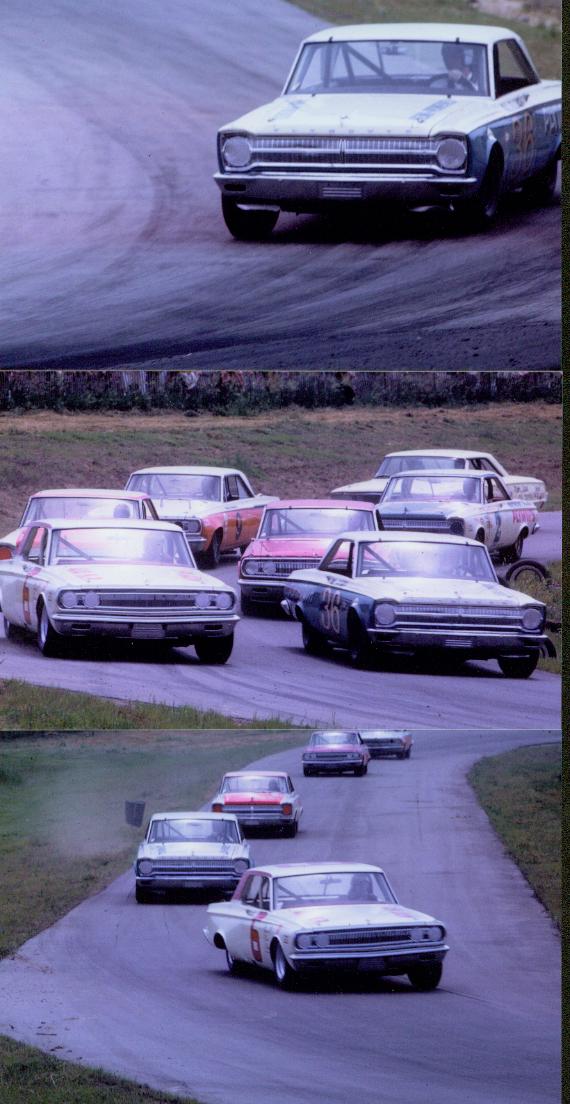 April 5th, 2006
Ted Wells sent the following article which describes the financial problems and eventual demise of Greenwood Roadway. Thanks Ted!
Money Troubles KO Iowa Race Track
November 4th, 2006
I just got some great new pictures from the Greenwood USRRC race July 18-19th, 1964. They were taken by a then 15 year old race fan and resident of Indianola, Iowa, Craig Mossberg. Thank you Craig for sharing these great shots form a very important race at Greenwood.

Ken Miles in the pits

Hap Sharp's Chaparral 2

Ed Leslie's King Cobra

John Ryan's Porsche 904

Charlie Hayes Elva Porsche
Floyd Aaskov's Genie-Chevrolet

Cro-Sal Special Cheetah

Bob Johnson's Cobra