Red Car
Red Car is my father's '67 Galaxie 2 door hardtop. It is a fairly plain optioned car (no power steering or brakes, 289 3spd on the column) with flashy red paint and black interior.
A couple of events have precipitated a fairly urgent rebuild project for Red Car. The first happened when I showed my dear wife Wendi the coverage of "Drag Week" in the January 2007 copy of Hot Rod. She was evidently moved by the article and became convinced we should do Drag Week in some upcoming year in Red Car. I of course became intrigued by the idea and started doing some investigating. The class we'd most likely run in is for 12 second cars in the daily driver category. The way Drag Week works is, they have 5 race tracks in different parts of the country. You have to race at each track and drive your car between the tracks over the course of a week. You can pull a trailer with gear but other than that there are no support vehicles allowed. The class we'd be in you try and run as close to 12.00 seconds as you can, the person with the average closest to that number wins. Now to achieve an average of 12, you need to run in the high 11s. Red Car is at best a 15 second car at the moment, but of course I have a plan that I will elaborate on later. Suffice to say this seems like the perfect excuse to build a really big motor.
The second event happened when I was looking underneath the car and saw how bad the frame rust is getting. I am honestly concerned about it making it through the summer. So replacing the rusty frame is now our highest priority, other projects will have to wait. So I began looking for a parts car to donate it's frame and other goodies, I ended up buying a '68 Galaxie 4 Door Hardtop from a fellow in Oklahoma. This particular car, while ugly, looks to have a solid frame and a few additional items to recommend it. It will be providing power disc brakes, power steering and a 9" rear end to the project, definitely great upgrades from what Red Car has now.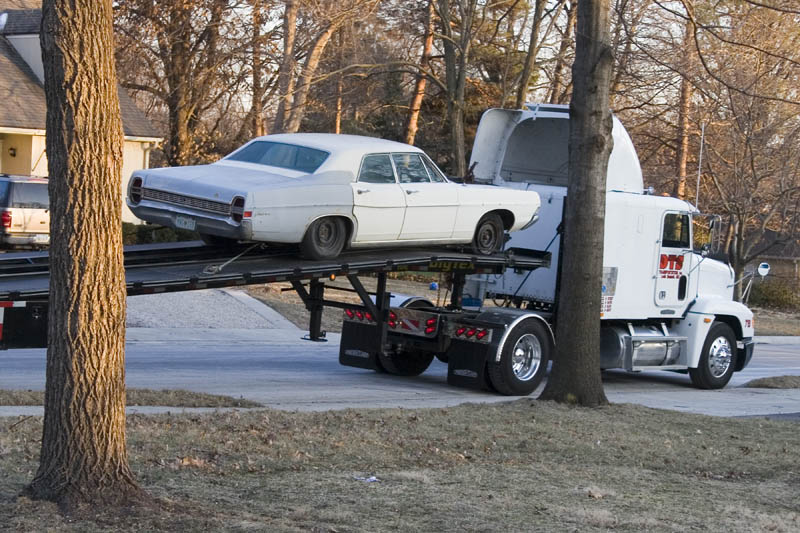 February 4th, 2007
An unusually warm day today, 47 degrees. I worked on the white car for 5 hours and got the front clip off.
February 18th, 2007
After I got the front clip off we had a huge snow storm and cold weather for a couple of weeks. Today it was warm again around 45 degrees and I got a lot done on the white car. First I pulled the drive shaft and removed the gas tank. Then this afternoon I pulled the engine and transmission. The engine is a 302 2V which the seller said is stuck. When I took the plug out of the oil pan anti-freeze came out... that doesn't seem like a good sign. The transmission is an FMX which is also not very useful. This engine and trans may be one I let the boys take apart to see how a motor works, or it may go curbside for big trash day. Everything still looks good with the frame.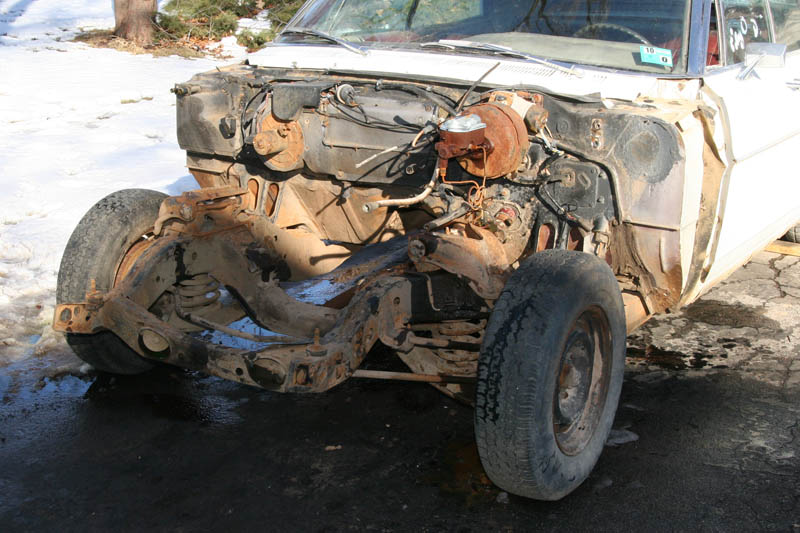 February 24th, 2007
Today in between rain storms I got the body off the frame. It was pretty dramatic. I borrowed the lifting and blocking up technique from this website:
Those of you who know me will know I'm usually "Mr. Nothing Bad Ever Happens To Me" when it comes to this kind of stuff, but I must admit even I thought this was scary. I think I'll figure out another way to do it when I go to lift off the body I want to keep. The author of the website said to use a 2x6 in the trunk to lift the rear body but I didn't have one. I found that the drive shaft was the perfect length so I used that instead.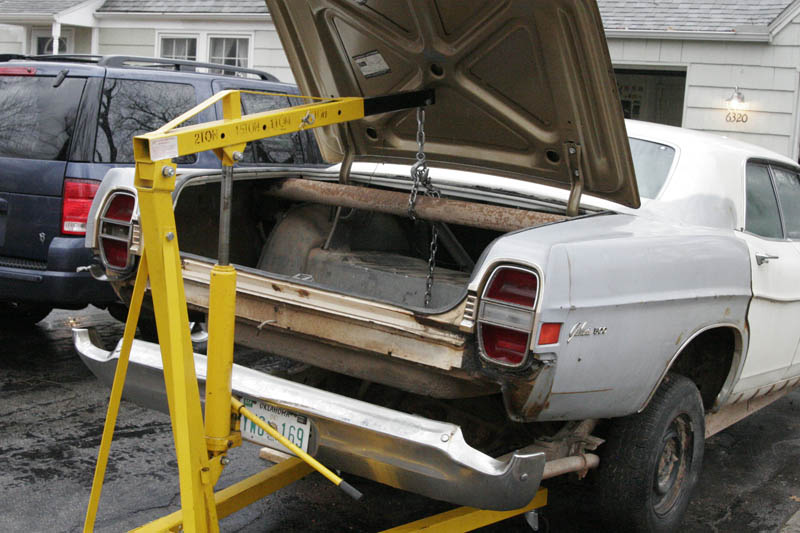 It was a real challenge getting it all high enough to roll the chassis out. On the third attempt I was about 1/4" short so I used the old truckers trick of letting half the air out of one of the front tires. Note the amount of bend in the 4x4, no way was I getting under it. But it all turned out okay in the end and the frame is now in the back yard and the body is sitting on 2 4x4s in the driveway. I plan to call around on monday and see if someone with a rollback will come and take it away. I think with the favorable steel prices I won't have much trouble finding someone.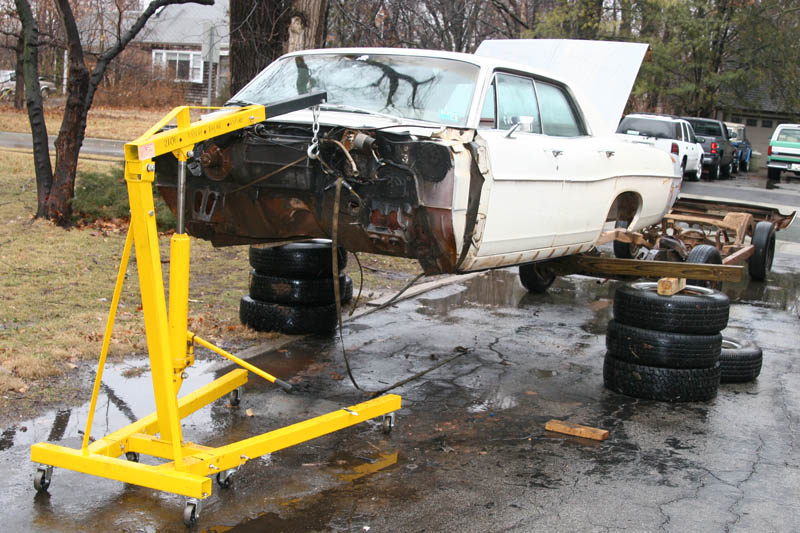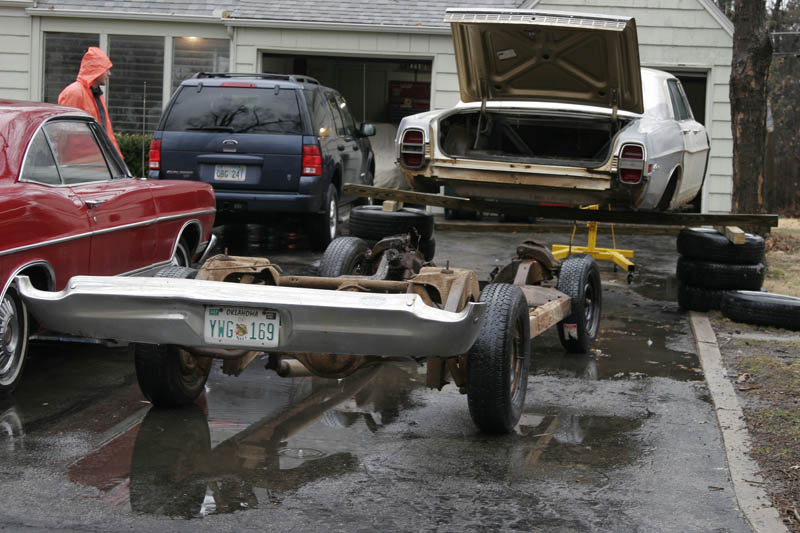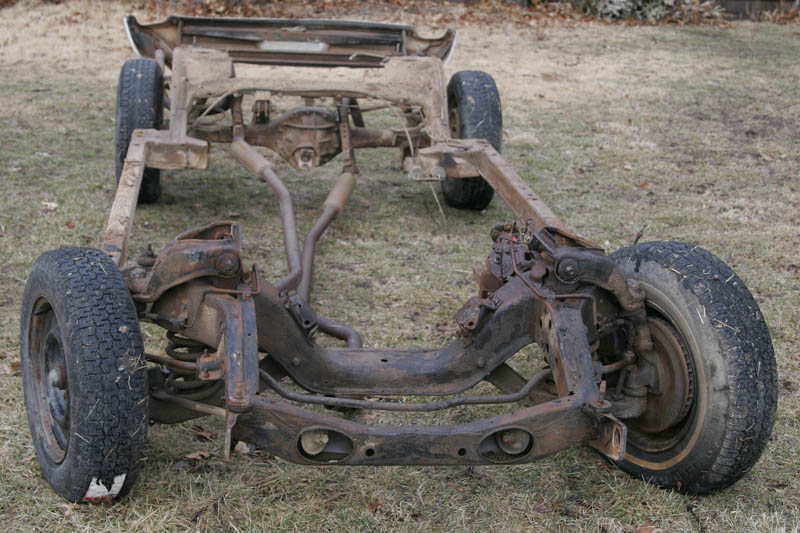 March 10th, 2007
I finally got back to working on the frame today. I got the brake lines, rear suspension and rear axle removed. I put the rear axle into the shop to start a rebuild of it. I'd like to go ahead and do the 4:11 gears and Detroit locker at this time but we'll have to see if finances allow it. Here is a shot of Audrey starting to wire brush the frame. She's such a hard worker!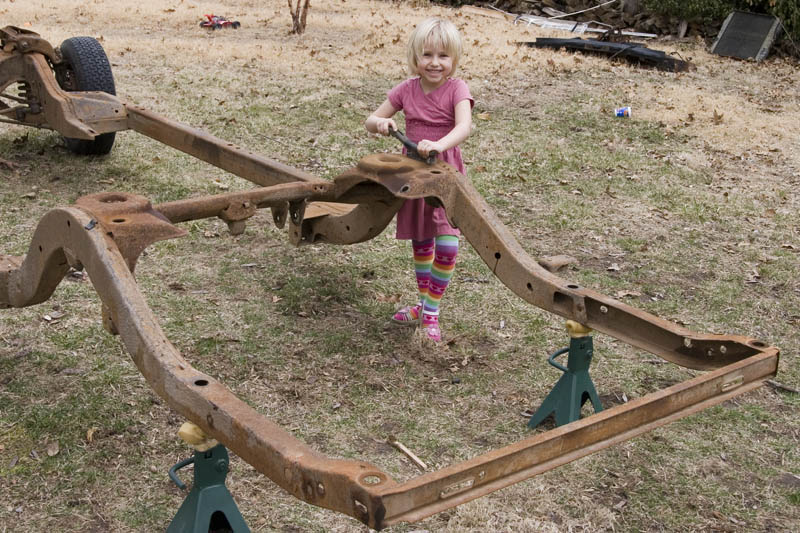 I finished removing everything from the frame today and the boys and I started power washing it. Not too surprisingly we washed a lot of red dirt out of the frame, but what was surprising is that we washed a few hundred pecans out of it! Must be a rodent horde of some kind. We'll probably power wash it some more tomorrow and probably turn it over and do the bottom as well.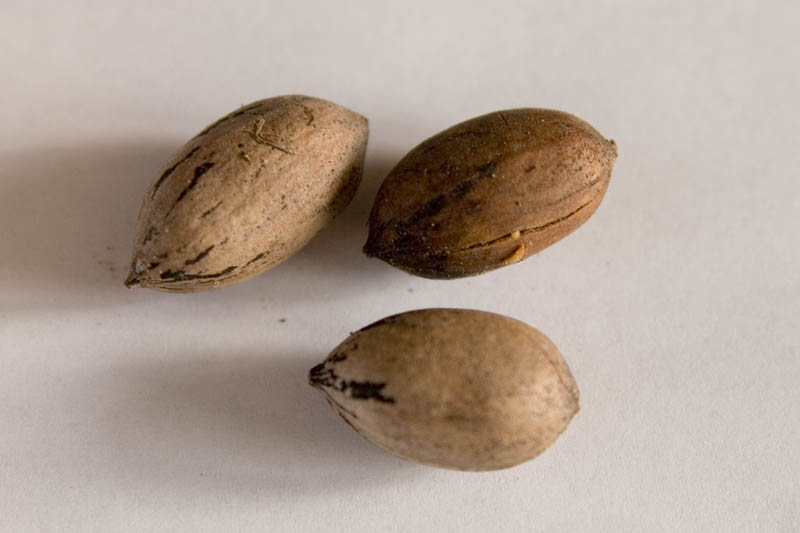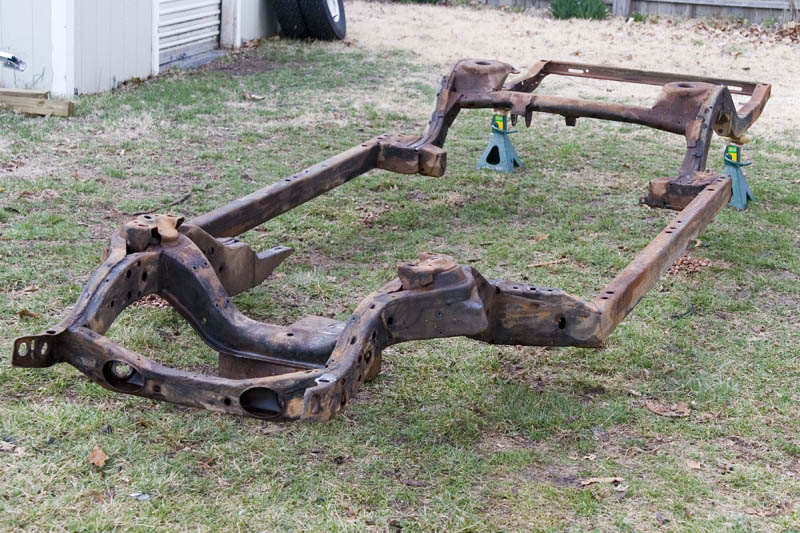 We power washed it some more today and go a couple dozen more pecans out of it. When I flipped it over I could tell there are still more in the front ends of the axle humps. I think I'm going to let it dry out and then try to vacuum them out some how.
Evan and I also started sand blasting the suspension parts. And we also pressed out the old rubber bushings. I want to replace them with Polyurethane bushings but there aren't kits for a '67 Galaxie. Someone on one of the forums told me that '72-'76 Torino parts would work so I ordered part # 4.3120 from Energy Suspensions. This is their rear suspension kit. It looks like the bushings for the lower control arms are correct but that's it. I'm going to contact Energy Suspensions this week and see if they have something that I can buy individually that will work for the upper, even if I had to cut it down on a lathe or something.
April 22th, 2007
I had an idea on the upper control arm bushings, I thought maybe it would be possible to machine some out of Delrin. I ordered a 3" round 12" long piece from Enco. But it came it and seemed entirely too hard. The new plan is that I am going to build a jig / mold and pour them myself with polyurethane. I bought a pound of 94A polyurethane from McMaster-Carr to give it a try. I think I need to order some mold release compound before I try it though. More on this later.
To paint the frame with POR-15 I need to remove the some undercoating from various places on the frame. I ordered some stuff from Eastwood called "Undergone".
Unfortunately, like so many Eastwood products I've tried, it didn't work very well at all. It sure sounded like the ideal thing, but it really just wasn't powerful enough to do the job.
So I turned to a tool that my brother Richard had recommended many times, a wire brush in my angle grinder.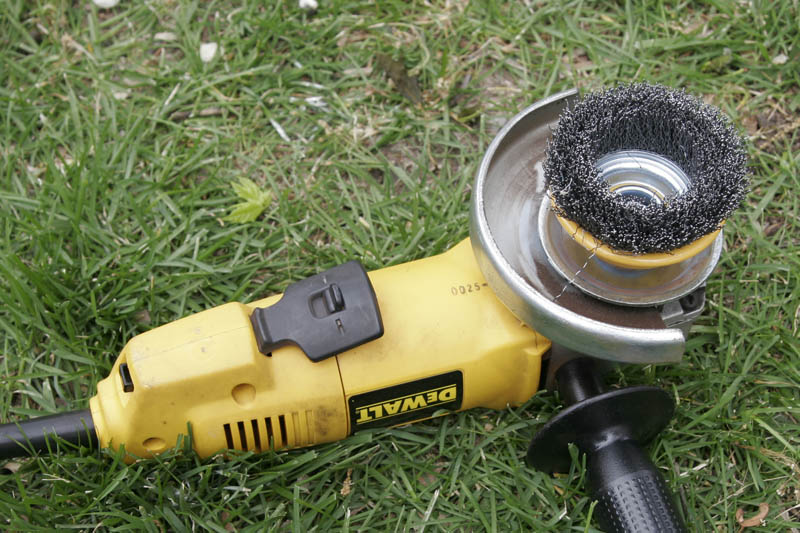 It worked really well and did a nice job fairly quickly.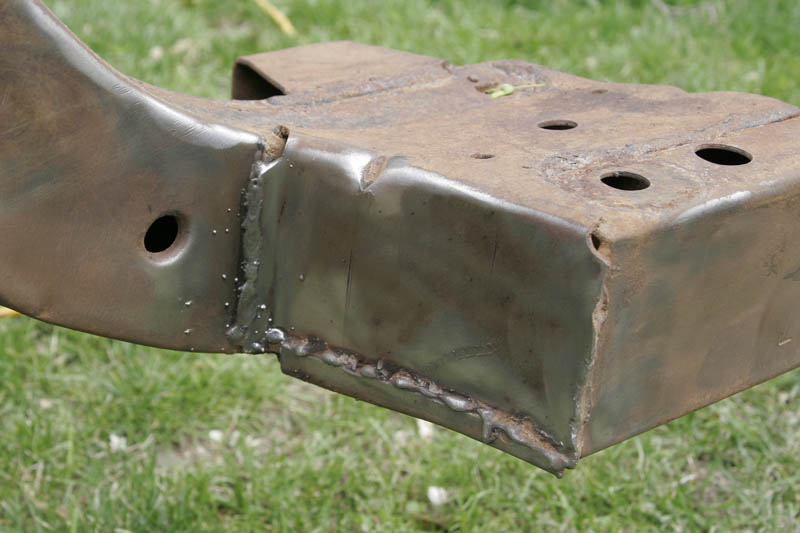 The brushes themselves don't last very long though. I went through 3 of them so far, probably need one more to finish the job (I just need to do the bottom side of everything). The bristles break of from the inside out and shoot out and mostly hit you. No injuries resulted but they do stick into your pants and shirt. I wore a face mask of course. I hope to finish the grinding on the bottom and get ready to paint in the next couple of days.
Today I finished wirebrushing the frame. Then I used a product called "Marine Clean" from POR to clean and degrease the frame. It actually did a pretty amazing job, even removing some rust as well. You just spray it on and then hose it off.
Next I painted the bottom side of the frame with POR-15. It was pretty easy to apply with those little foam paint brushes. It came out looking pretty good. I'm still debating on whether or not to paint over the POR-15. They recommend it because the POR-15 is not UV tolerant. But it is the frame of the car, how much direct sunlight does it really get. E-mail me with your opinions if you have any.
Tomorrow we'll flip the frame over and paint the top. I used most of a quart on the bottom side, I'll most likely run out of that quart before I finish but we'll see.
I also heard about an ebay seller named SuspensTech that supposedly has a poly bushing kit for the '67 Galaxie. I'm checking with them now, if they do I may not need to pour my own.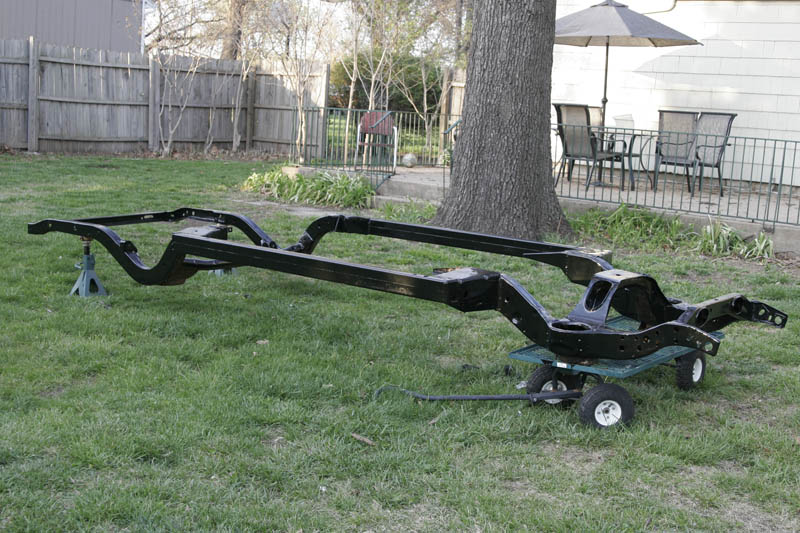 Duncan helped me flip the frame over this morning before school. Over lunch I painted the top side and ended up with just a little paint left out of the quart.
The SuspensTech guy does have front and rear poly bushing sets for the '67 Galaxie so I ordered both from him. We'll see what they look like when they come in, I may be able to return the Energy Suspension kits to Summit.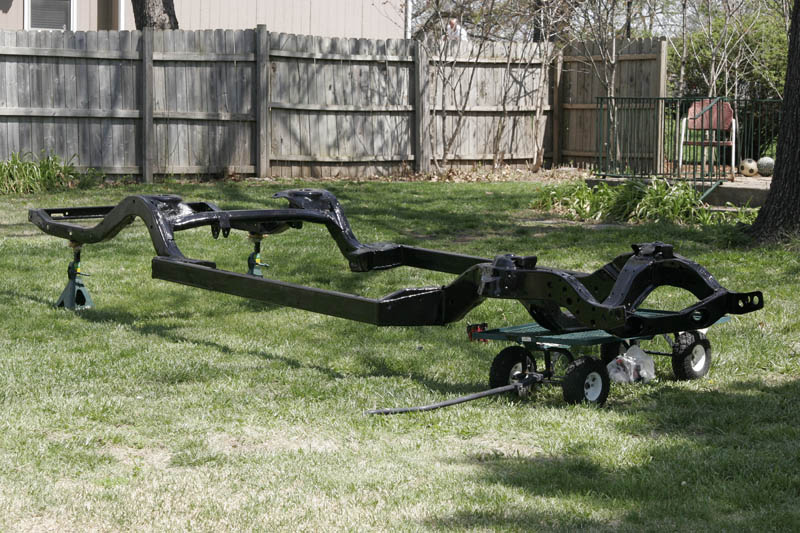 This weekend I was able to finish painting the frame. I had decided to paint POR-15 Chassis Coat Black over the regular POR-15 per their recommendations. After sitting outside in the sun and rain for 2 weeks there was some noticeable graying of the POR-15 so I guess I'm glad I did it. When it dried we moved it into the garage to keep the bird doo off of it. I'm still waiting for the SuspensTech bushing kit, it should be here soon. In the mean time I need to get some more sand blasting done and box the rear control arms. Oh and we did have a major potential breakthrough on the engine. Dove Engineering http://www.doveengineparts.com/ may soon be offering very affordable SOHC kits. I've got my name in for one, we'll see if it really works out. That would get us the horsepower we need easily.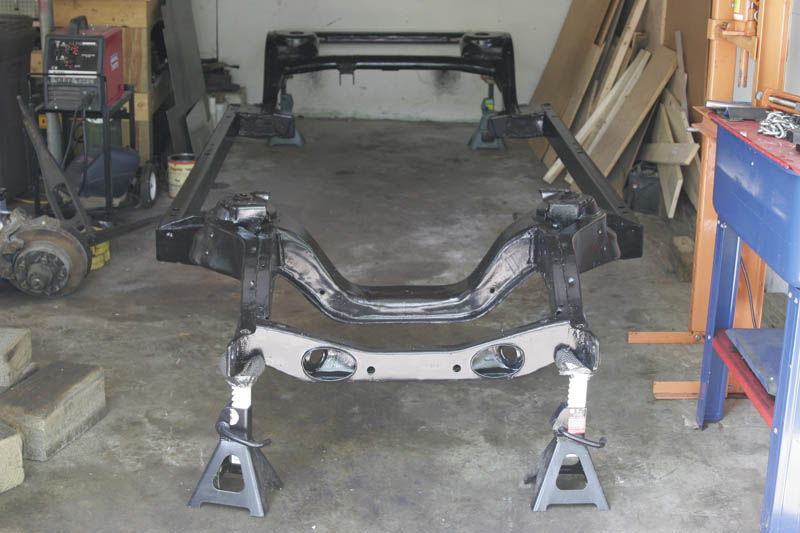 This morning Evan and I finished taking apart the rear axle. It all looked good but of course the only thing from the axle that we will reuse is the housing. I ran onto a guy on the FE Forum that needs the axles so I'll be boxing them up and sending them down towards Wichita next week. Earlier this week I was able to get one of the upper front control arms disassembled. That was a bit of a head scratcher because the poly bushing set I will be using requires that you keep the original shells. So I really just wanted to remove the rubber and leave the rest. A fellow on the FE Forum told me the trick, you burn it out with a propane torch. It really went pretty fast, I burnt it off down to the shell then knocked out the inner sleeve. With that out of the way the remaining rubber pulled out easily with a screw driver.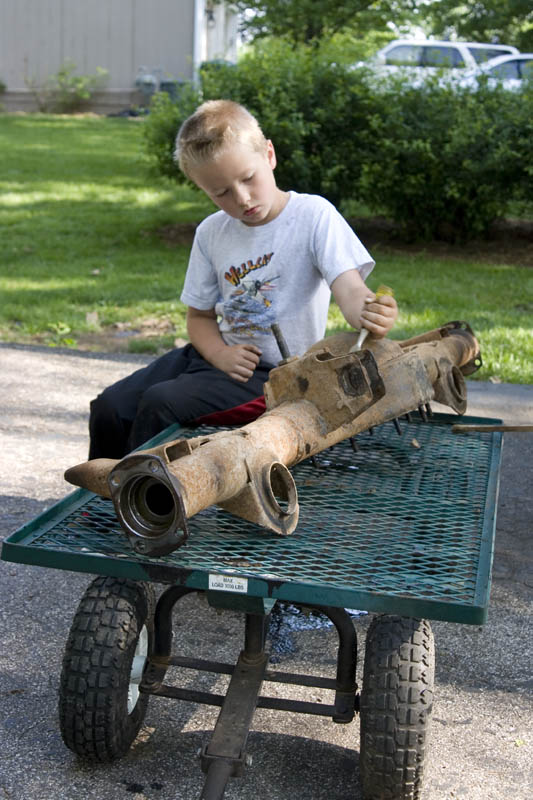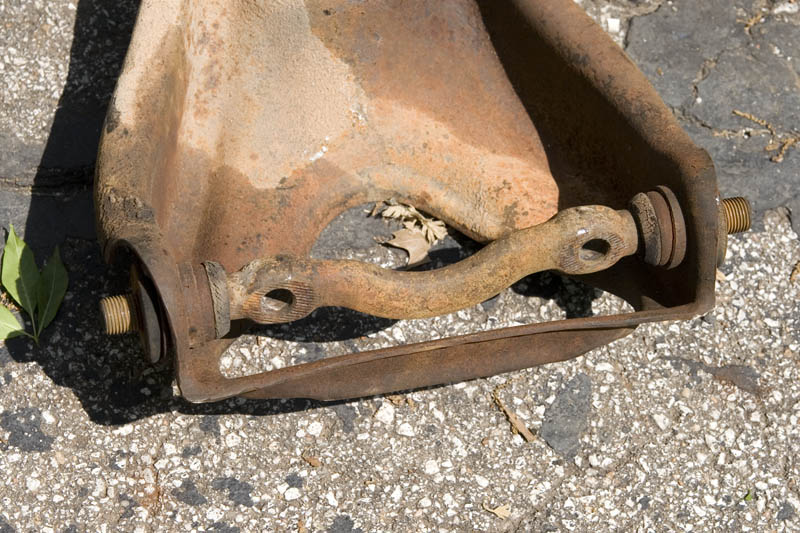 Not a lot of progress has been made on the frame over the winter. But I did gather the parts to build a "bullet proof" Ford 9" rear for the car. My goal was to build a rear end that can handle 700 HP with slicks. I'm pretty sure the parts are up to that but we'll see. Now that hopefully spring is on it's way it will be warm enough to do some more sand blasting and painting of suspension components. I am also ready to box the rear control arms and get them finished.
The bill of materials for the rear end is as follows:
Strange Engineering Cast Iron Center Section with 3.25 bearings

Cast Iron Daytona Pinion Support

Used Nascar Detroit Locker from Ebay (I took it apart and it looks brand new inside)

Richmond Gear 3.89:1 ring and pinion

Richmond Gear Installation Kit with bearings shims and what not.

Forged Steel 1350 Pinion Yoke

Ratech #4105 Solid Spacer / Shim kit. (replaces crush sleeve)

ARP Pinion Support Studs
I haven't ordered them yet but I'll be getting 31 spline axles from Moser. A friend from the Mid-America Cobra Club, Ken Williams has offered to help me set up the ring and pinion in the next couple of weeks. Yesterday I cleaned the case and pinion support and painted them with POR-15.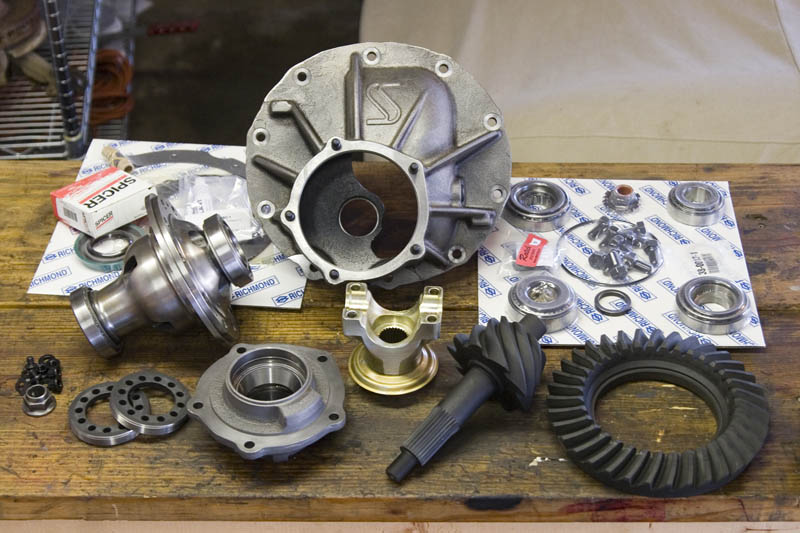 Since the last installment I have serviced the Detroit Locker. I had to have Davis Machine press off the old bearings so I could press on the new ones that came with the Richmond Installation Kit. I also disassembled it to see how it works and check the condition. This locker was bought on ebay as a used nascar unit. Thankfully it looked brand new inside. I also received the Moser 31 spline axles today. What incredible service, I ordered them on Tuesday of last week based on dimensions I recorded from the old axles, they made them and shipped them out on Thursday and they arrived on Monday. Since I ordered their bearing and retainer kit they came with the O-ringed bearings already pressed on. It was actually lucky that they came today because I don't think Duncan and I could have gotten the locker back together without them. We had bought some 2" countersunk screws at the hardware store and compressed the two halves together as far as they would go with them. Then as we aligned each set of splines we'd get a little closer together. The final two alignments were accomplished by setting the locker on the axle splines and twisting. Next we'll get the ring gear bolted to the locker and set the bearing preload on the pinion using the Ratech solid spacer and shims. I harvested the old pinion nut from from the original pumpkin to use in the iterative pinion bearing setup work.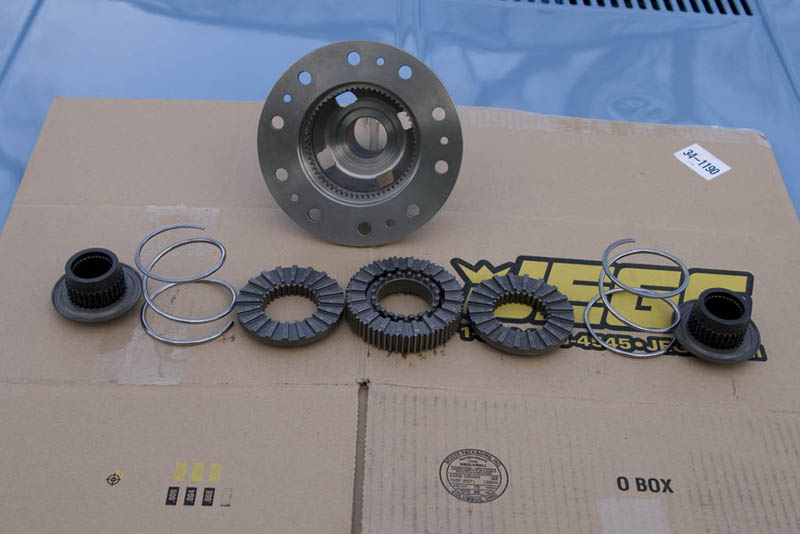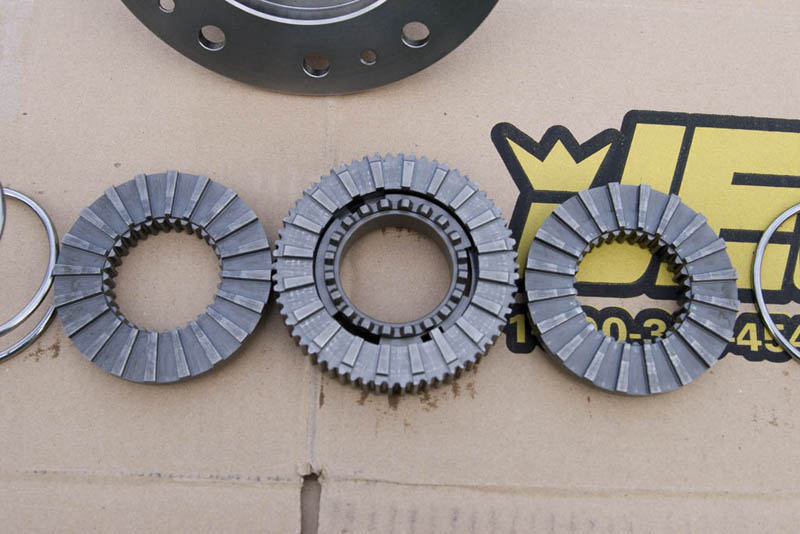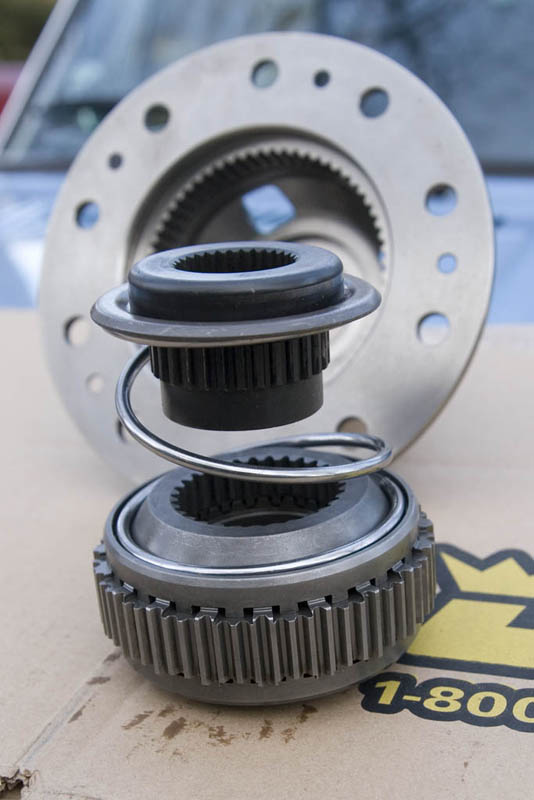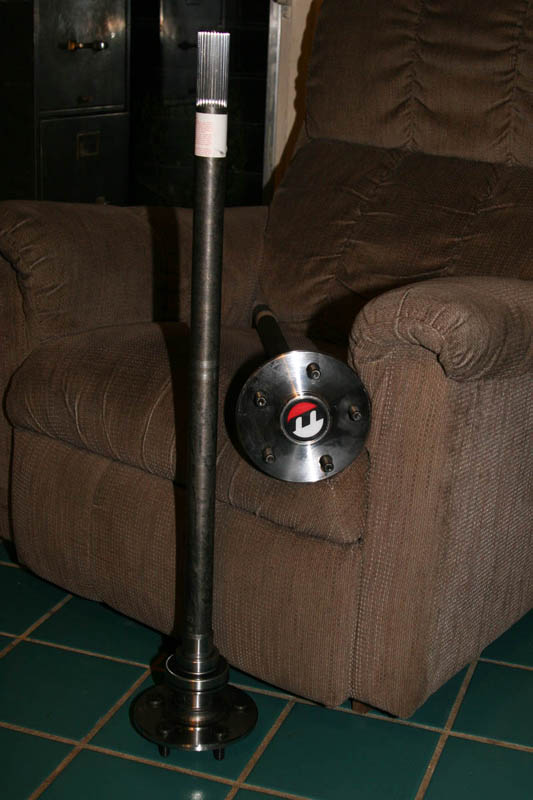 I messed up a little on the pinion setup. For whatever reason my pinion bearings are a light press fit onto the pinion. The idea is that you put the right combination of solid shims between the two bearings, assemble it all, and measure the Preload by seeing how difficult it is to turn the pinion. The preload is measured in inch pounds and you are looking for something in the range of 22-32. So I took my first stab at it using 3 random shims from the Ratech kit and pressing the top bearing in. I used my old pinion nut and tightened it down tight (so I thought). My first attempt came out 25 in /lbs. so I thought great, how easy is that. I took the yoke back off installed the seal and then torqued the new pinion nut on. I could feel it tighten up as I torqued the nut and when finished the pinion wouldn't move. I had failed to torque the test sufficiently to overcome the press fit of the bearing.
I then had a couple of business trips to go on and finally got back to it Easter Sunday after our family had left. I needed some sort of a press fixture to hold the pinion support so I could press the pinion back out of it. Below is the crude but effective fabrication I came up with. It actually worked pretty slick and after a few iterations of different shims I now have 30 in / lbs. I actually had two sets of the solid shims, one set came in the Richmond Gear install kit and the other came from Ratech. This turned out to be handy because I had more combinations of shims to choose from. The second to last iteration was a shim thickness of 0.061" and it produced 75 in/lbs. The final thickness was 0.064".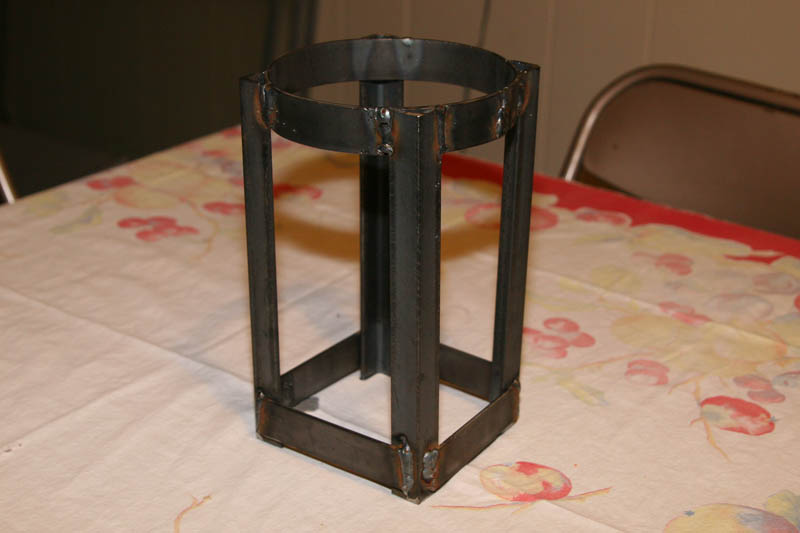 Last night I went over to cobra club buddy Ken Williams' house and we finished setting up the chunk. Ken has done many of these rear ends before and it went pretty quickly. The hardest part was judging the pattern in the marking grease and knowing how to affect it. We are going to have to step up production on this project, we are seriously thinking of going on Hot Rod Power Tour this year with the car using the 390 out of the cobra. The route is great for us and we even end up near a wedding we need to go to the day after it's over.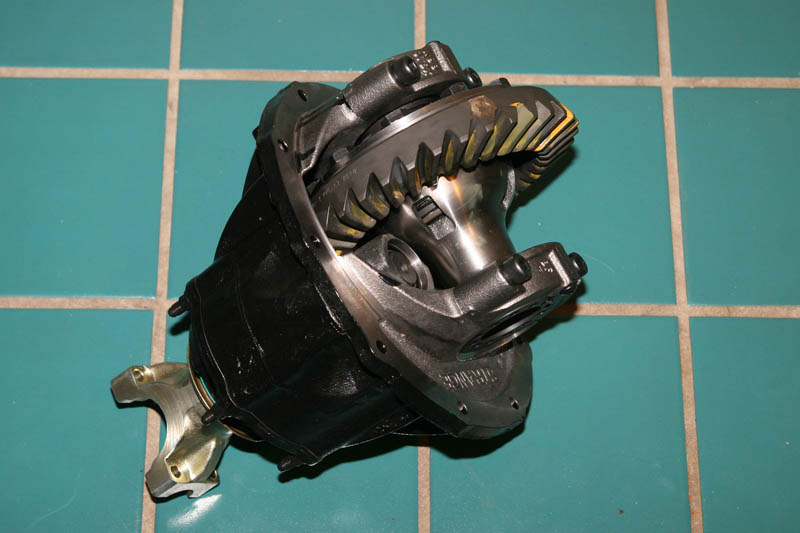 This weekend I cleaned up the rear axle housing getting it ready to paint it with POR-15. Unfortunately it was too cold here to paint so that will have to wait. I did mock everything up to check the axles, both for how close they are to each other and mesh in the detroit locker. It appears I have about 1" of insertion on both sides. I assume this is correct since I measured the original axles when I ordered these from Moser.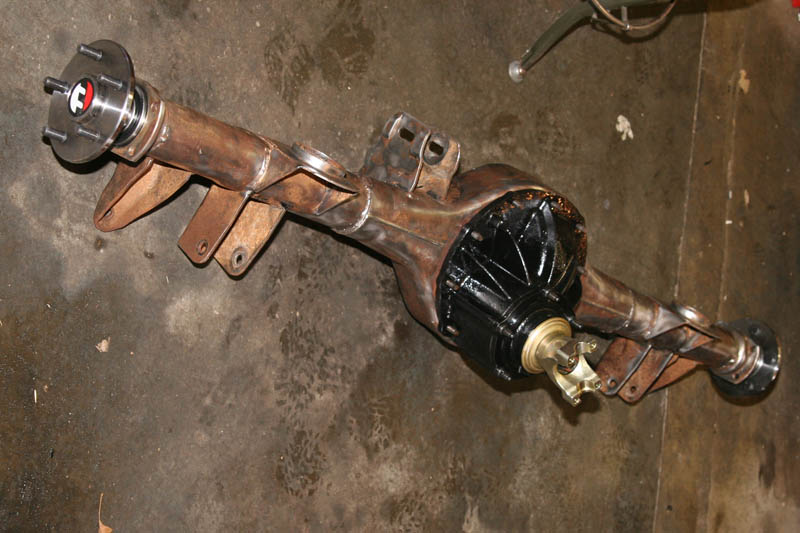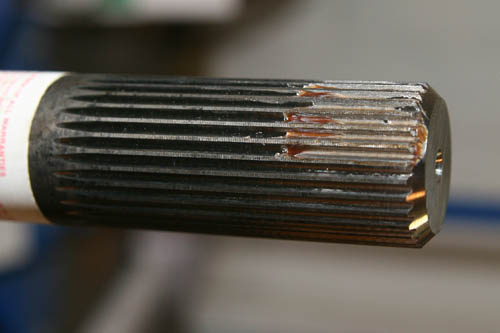 Happy 427 day!!! I've gotten quite a bit done on the frame project lately. The rear end housing is now painted and just waiting on brake backing plates to be cleaned and painted to assemble it. I've ordered a bunch of rebuild parts for the brakes, ball joints, etc. from RockAuto.com. They sent out a 5% off e-mail and I thought about it, I really didn't want to deal with parts counter guys. I knew what name brands I was getting vs. some of the restoration catalog places. And the prices were surprisingly good. I'm really glad I have '68 disc brakes rather than '67, much cheaper to buy calipers etc. I have lots of sandblasting to do and am having a production problem with my blast cabinet. After an hour or so running there starts to get water in the spray. I'm going to get a filter tomorrow from Harbor Freight and see if that helps. Everything suspension wise is getting sandblasted and then painted with POR-15. I also spent some time tonight boxing my control arms with 3/16" steel straps. I think they turned out pretty good and will be much stronger and deflect less.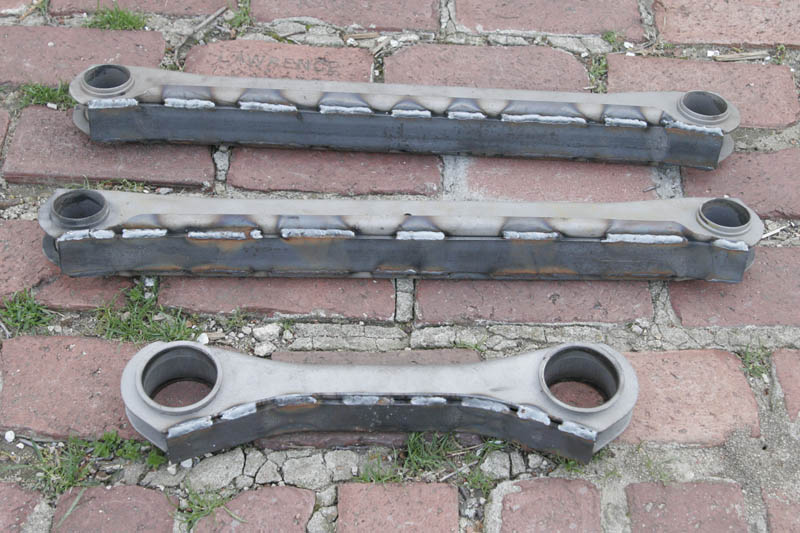 We got a lot done this week. A lot of sandblasting parts and painting. Unfortunately now we're out of paint and the sandblaster needs a new tip. We also decided on and ordered a transmission, doing our part to help the economy with our W money. We are getting a Tremec TKO-600 with .64 overdrive. We ordered it from Forte's Part Connection and they had a shorter input shaft needed for the FE motor. I also had to order a new clutch disc for the GM 26 spline input. This is the first aftermarket transmission I've ever bought, but several cobra friends have them and it seems like they are good. It was the cheapest way we could get an overdrive transmission that would handle the kind of power we hope to make some day. I also finished assembling the rear axle and put the bushings in the trailing arms. It's coming along!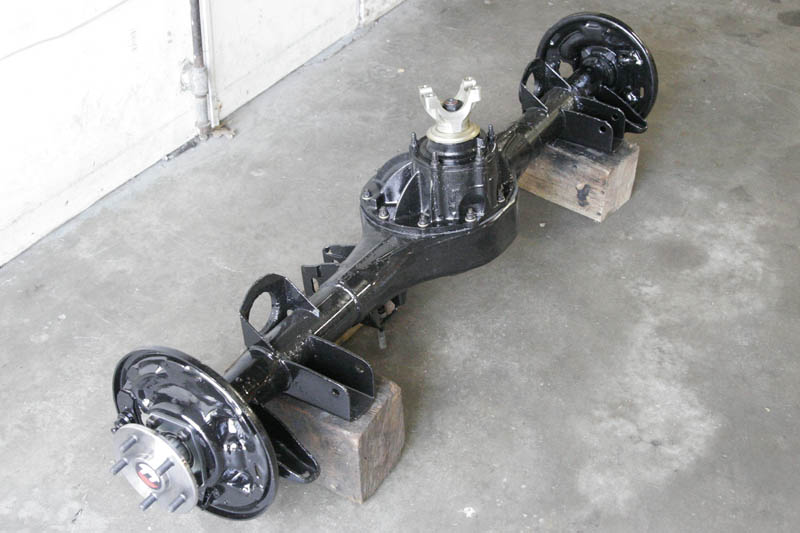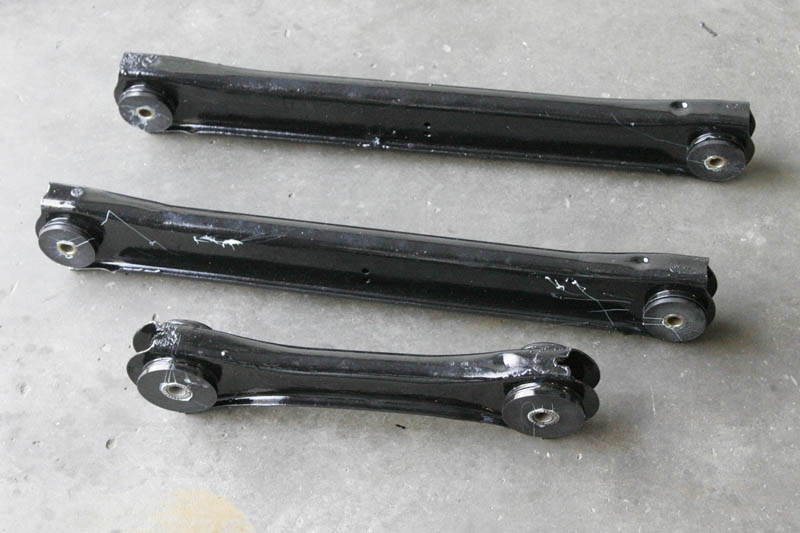 A very Happy Mother's Day to everyone, Wendi has asked to sleep in and be free of cooking today, so I'm on it. A lot has happened this week on the car. Lots of sand blasting and painting of parts. The pile to yet be done is getting a lot smaller, maybe next week we'll be done with that. All the parts are getting either POR-15 painted or in the case of hardware a black oxide finish from Caswell Plating.
As I've mentioned before, I got all the factory replacement parts for the project from Rock Auto. I must say they they have been great to deal with. I had to return the master cylinder because I got the wrong one, and have also sent back cores for the calipers. Their prices are great and customer service is very responsive via e-mail. The only bad thing is shipping expense on sending back the cores. All in all I'm pretty disappointed in the donor car's parts. The brakes were frozen with rust which means new wheel cylinders, calipers, master cylinder, brake booster all had to be replaced. I'm a little worried about the power steering box, I've gotten a lot of greenish brown goo out of it. But they have a rebuilt one for $100 so I guess I'll try it and if there is a problem I'll have to replace it.
I got the rear suspension arms bolted up this week. I'm a little confused about what to set the pinion angle to because all the shop manuals I have give slightly different answers as to what it should be. I know pinion angle should be parallel with the engine / transmission angle. So my plan is to level the chassis at ride height, fabricate the transmission mount so that the carb pad on the engine is level, and then match the pinion angle to the resulting transmission angle.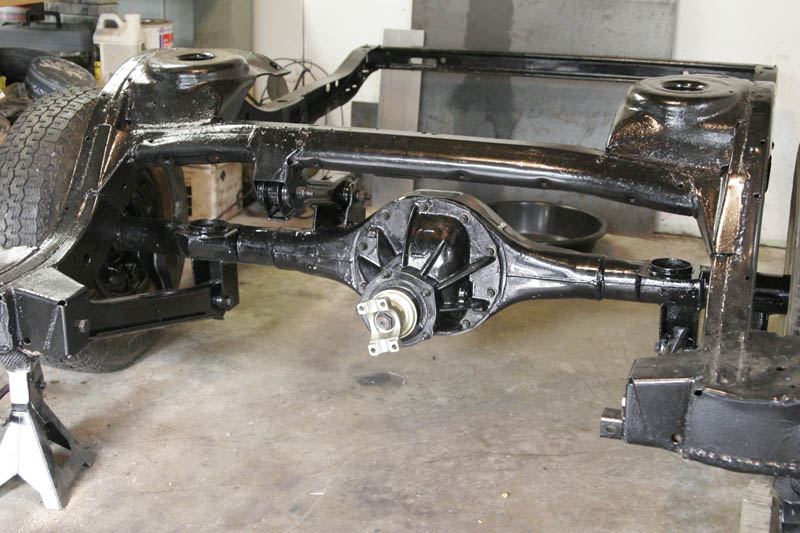 I also got the TKO-600 transmission this week from Forte's. It included a shorter input shaft for the FE so it can bolt directly to the bell housing (instead of needing a spacer plate). I also got the matching driveshaft yoke from them although I wonder if I don't have the right one already in the AOD. I had to get a new clutch disc that matches the splines on the TKO. A friend with this transmission in a Galaxie with a bench seat recommended the shifter handle. I have been REALLY fortunate to know several people with this combination of FE motor / Lakewood bellhousing / TKO-600 / Canton T-pan / Hooker Super Comp Headers in a '65 - '67 Galaxie. I have people to ask questions of and lots of pictures showing all the little pitfalls I need to handle.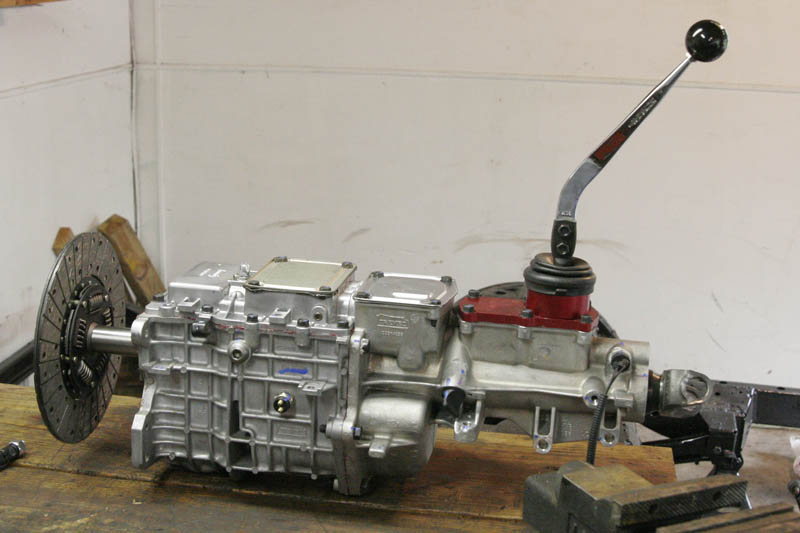 I also got the Hooker Super Comp headers. I did not get them ceramic coated because I knew they require some "adjustment" in the form of small dents for clearance and I didn't want to mess up the coating. I will hopefully be able to get them coated at some point after they are installed.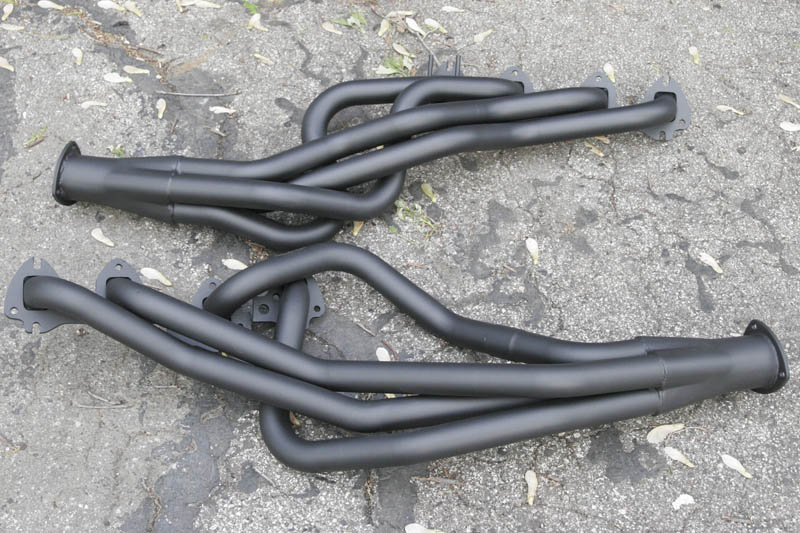 I took today off work to make some progress on the Red Car. I really got a lot done. I started out the day by assembling the rear brakes. I have most of the plumbing done with just a few clips and such to add. The stainless brake line kit came from Dearborn Classics. It seems to be pretty good but looks like I will have to modify it somewhat at the front. I really messed up when I disassembled the brakes months ago. I threw away the brake shoes with the parking brake lever still attached (and you don't get one with new brake shoes). So I had to steal them from Red Car which means it can't be driven any more. The brakes look purty, too bad they won't stay that way.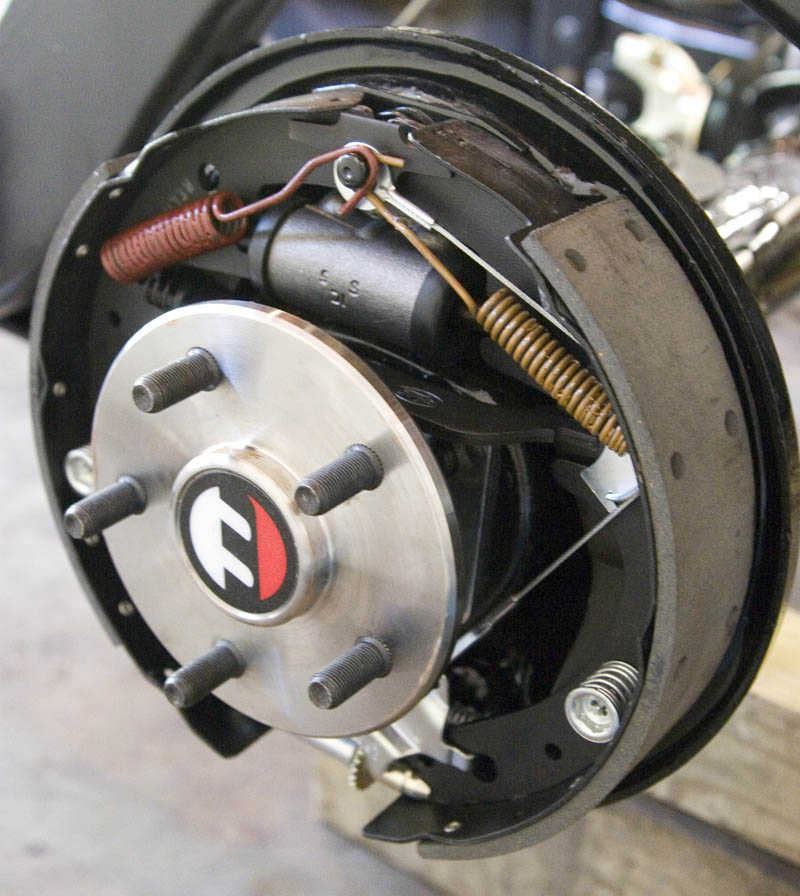 I also tried something new, I did the black oxide finish on the brake drum after I sandblasted it. I think it turned out looking great, I just don't know how long it will last. I'm going to do the same with the front rotors.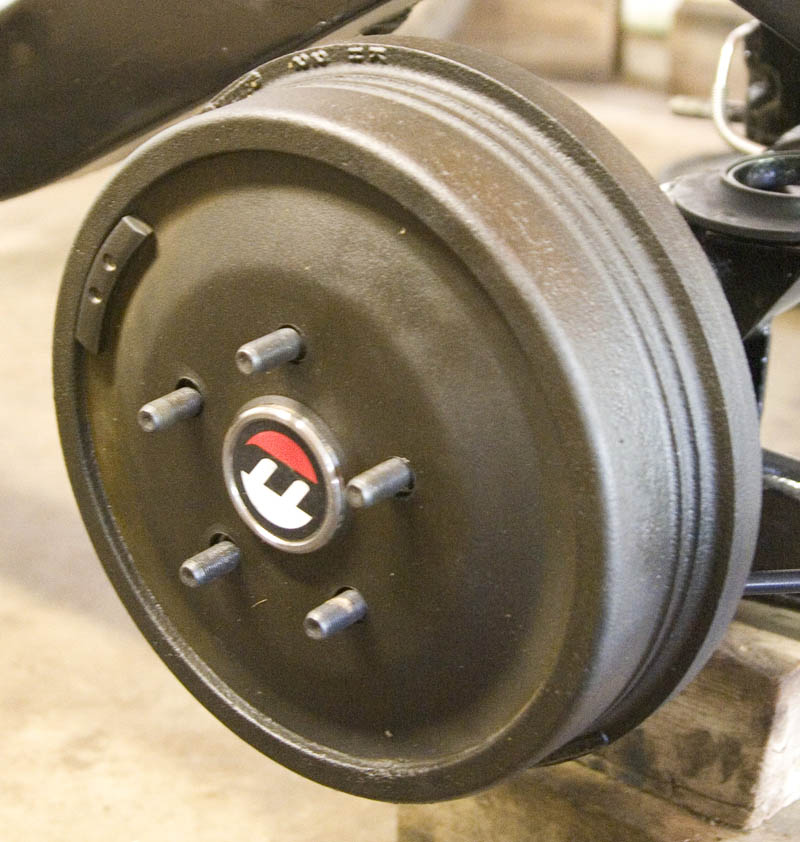 Then after lunch I finished removing the 390 from the cobra and set it in the chassis for mock up purposes. I installed the empty bell housing and the TKO-600. I was pleasantly surprised to find that if I reversed the FMX cross member it fit perfectly. I am going to level up the frame at ride height and check drive line angles and work on the pinion angle. I'm also going to try to get the headers fit before tearing down the motor to replace the rear main seal.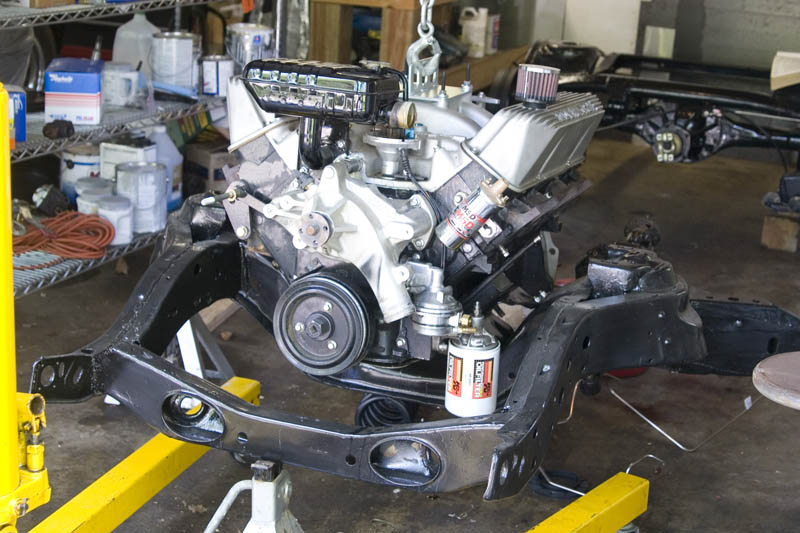 I had a real "oh shoot" moment when I tried to fit the right side header. There was no way it was going to fit. It was if the motor was too far forward. As it turns out it was, I was using the motor mounts from the cobra which are '63-'64 Galaxie. The motor mounts for '67 Galaxie are different. Once I got them all was well with the right side header and the trans crossmember is no longer reversed. I did a bunch of other stuff during the weekend like putting on all the little clips that hold the brake lines and parking brake cables. I also started on the front suspension parts but ran into a couple of snags. I had gotten the wrong ball joints for the lowers and the poly bushings for the uppers didn't fit. My brother Richard has kindly offered to rework the sleeves for the uppers so they fit. Next I'm going to fit the left side header which I know requires some grinding of the belhousing and some dents to the header. Then I need to get my clutch linkage set up.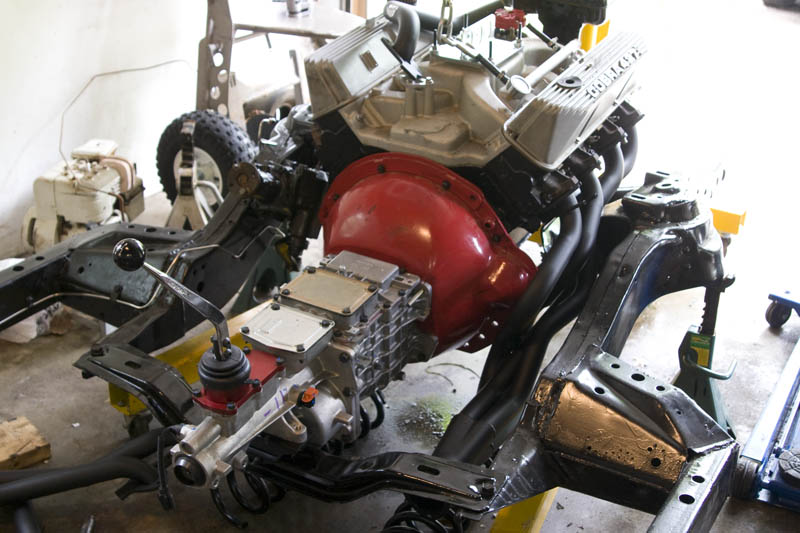 Today I worked on left side header fitment and it went pretty well. I really have to thank Mike and Evan Gaffney of the FE Forum because they documented exactly what I needed to do when they built Evan's Galaxie. The first step was to grind a half moon shape out of the Lakewood bellhousing and backing plate to clear one of the header tubes. I used my electric die grinder and it went pretty smoothly.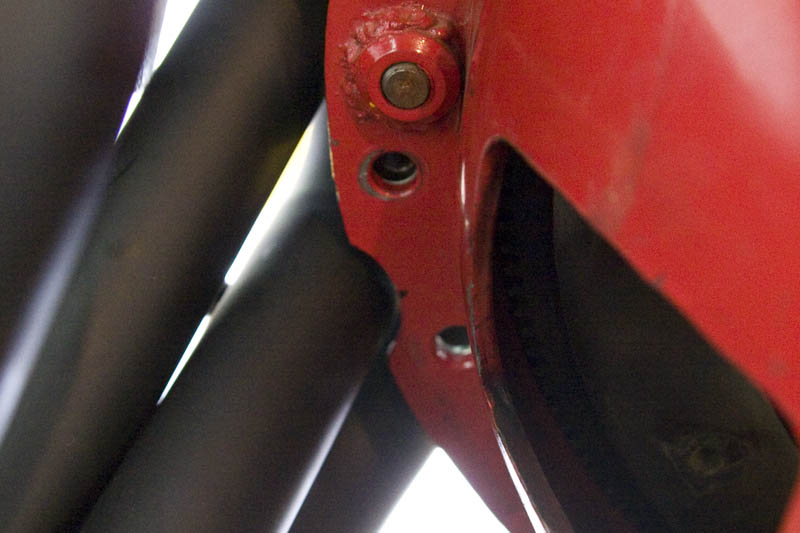 Next there is a small dent you need to put into another tube to clear the pitman arm. Mine wasn't actually touching but it was close so I put in a smallish dent with a large ball peen hammer.
I've also been fiddling around with driveline angle / pinion angle. The issue is that while the TKO-600 mount is the right size and in the right position longitudinally, it is closer to the output shaft than the Ford transmissions. So I leveled up the frame and adjusted the driveline angle so the carb pad was level. This seemed to take 4 degrees and a 2" spacer in the transmission crossmember. That seemed okay but the headers were getting close to the crossmember and it didn't look quite right. Mike Gaffney said they used a 1" spacer so I made one like that, actually it's closer to 1 1/4" Ultimately I think I will have to revisit this when the body is on. What we want to have happen is that the carb pad should be level at ride height. That will give us our driveline angle. Then we want to adjust the pinion angle to be parallel to it so we have to be within that range of motion on the upper control arm. Then we want the driveshaft to be at a couple of degrees off to both of them, this ensures that the ujoint bearings are moving. I also want to balance how much tunnel modification I will have to do. Anyway, we'll see how this all fits when we put the body back on and install the engine again.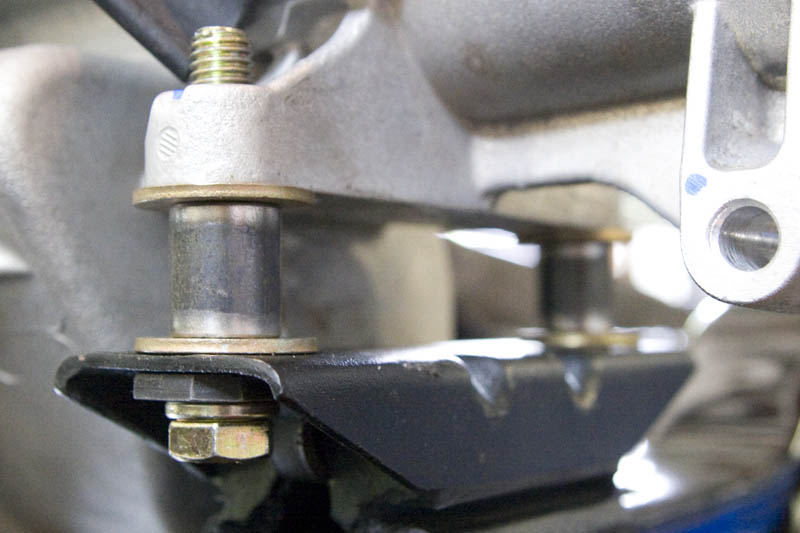 Evan had a soccer game today but I did manage to get the z-bar pivot made for the clutch linkage. I had to cut about 1/2" off the engine end of my Zbar to get the pivot to fit next to the bellhousing. It's not exactly pretty, but it's solid :) I also discovered that my clutch fork and release rod will not work. The application for both items is a '73 Ford Pickup. But luckily there was a correct clutch fork (I hope) on ebay so I bought it. I need a clutch fork that angles back, otherwise the release rod would have to be about 2" long. Next I think I'll pull the driveshaft from red car and see what needs to be done with it.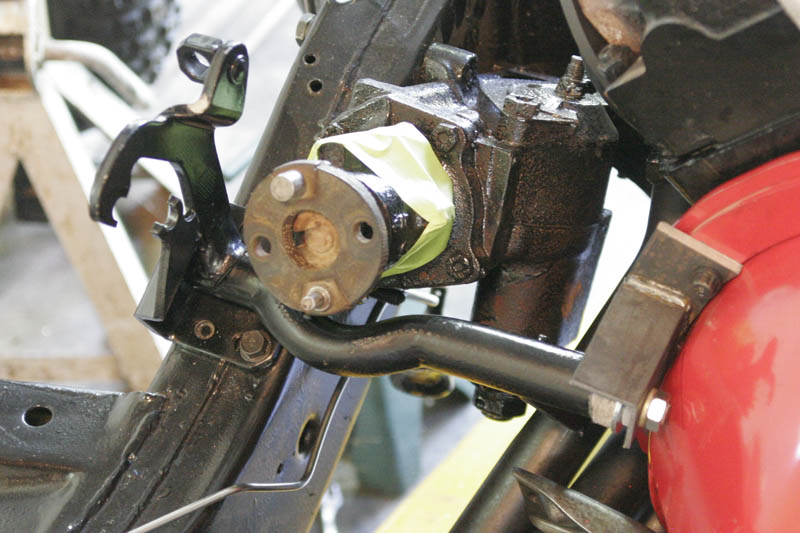 Okay call me anal if you will, but I decided to take the time to make a Rev 2 of the pivot bracket. The new one is a little more stylish and a little straighter, and well I like it better.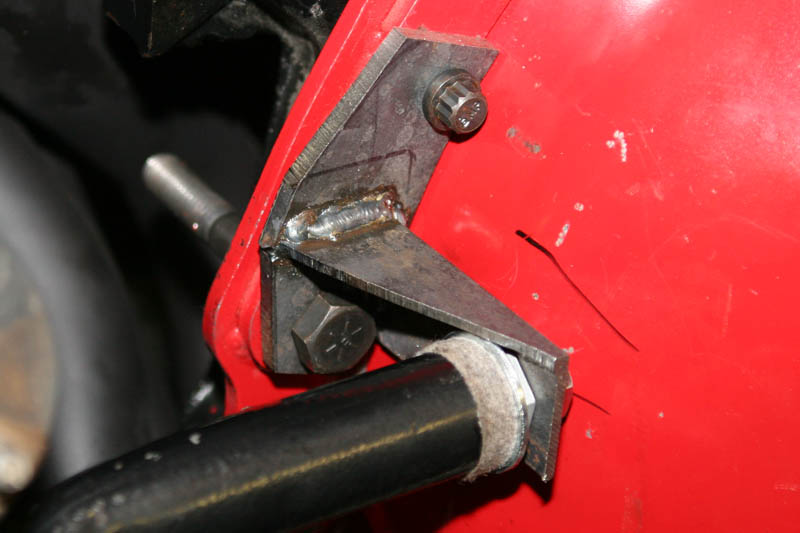 Monday night I jacked up red car to pull the driveshaft to see if it will work or not. It turns out it's about a half inch too short. It also has 1310 u-joints whereas my rear has a 1350 and my transmission yoke is a 1330. To solve all this and have a stronger driveline I am having Precision-Bilt of KC make a new driveshaft. I will drop off the yoke today and it should be ready on Friday.
While I had the car up in the air I also dropped the gas tank. The tank looks in good shape so I think we will reuse it. The gas gage never worked on Red Car and I found out why. A flat wire was broken on the fuel level sensor. I've ordered a new one.
Today I picked up the driveshaft and it looks great, Precision-Bilt did a nice job and it was relatively inexpensive. They called yesterday while they were working on it and asked if they could do it in 3 1/2" pipe because it was so long (66 1/8" from tip of outputshaft to center of pinion u-joint). I said sure, that's what size the original driveshaft was. It does look huge though.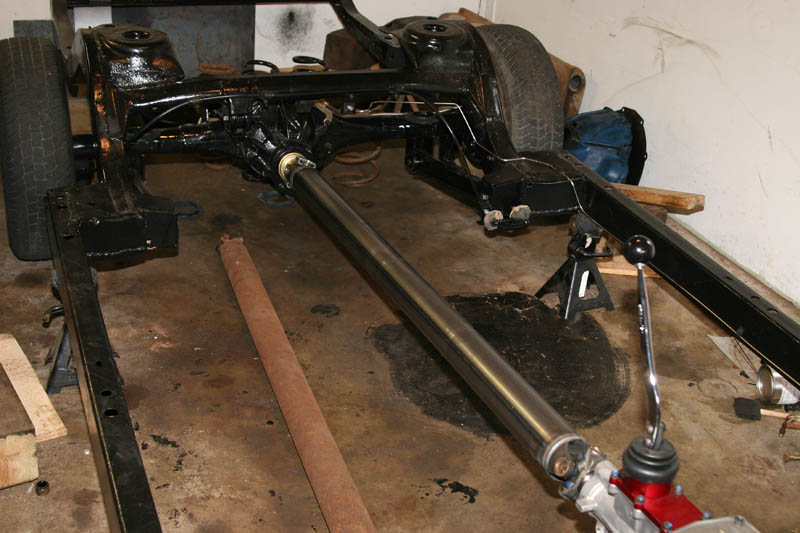 Last night I took the rear springs and shock absorbers off of the red car for use on it's new frame. Both components were new when I did the suspension rebuild in '04 and didn't have many miles on them. The KYB Gas Shocks still were gassy. A quick shot of paint and they will look like new. I put the springs from the '68 back under the car and the kids really enjoyed how bouncy it was with no shocks.
I also got the Holman Moody valve covers for the 390. It just didn't seem right having the COBRA 427 ones on there and I'll need them for the real 427 that will go in it. They are really nice with nice billet fittings. They fit well over my Precision Oil Pumps rocker shaft end stands. The only problem with them is the bolts that come with them are too long, I ordered some 3 1/4" ones from McMaster-Carr.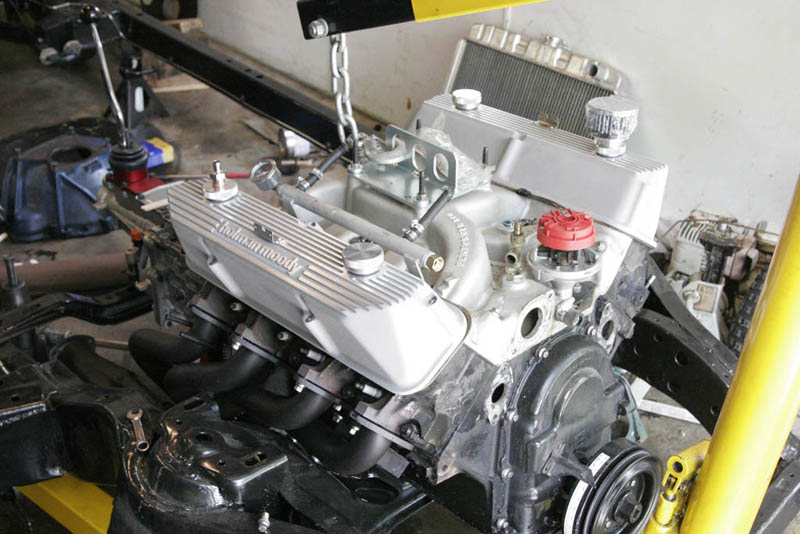 Happy Father's Day to all you Dad's out there. I got a few things done last week. As of this evening I finished the rear suspension. The crowning part was the Panhard Bar for which my big brother Richard machined some polyurethane bushings. Thanks again Richard, it fit perfectly. We started with Energy Suspension universal bushing 9.9108R and Richard machined down the metal sleeve and cut some off of both ends of each poly bushing. I also installed the repainted springs and shocks. Repainting the shocks made me feel like some kind of shyster used car salesman, but they really are in good condition and now look like new.
Richard also opened up the ID of the upper front suspension bushing sleeves which were inexplicably too small by about 6 thou. So next week we will be putting the front suspension together. Thanks again Richard :)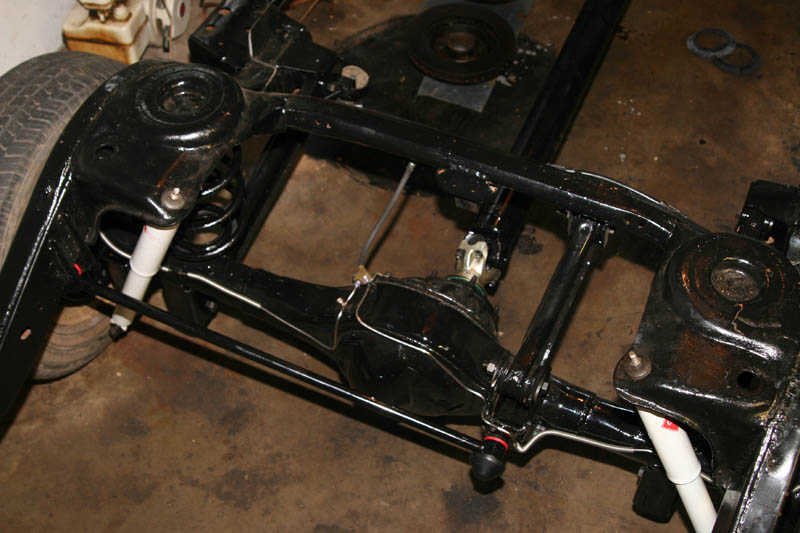 Well I can safely say the front suspension is now on, and it has all poly bushings. There was more trouble with the upper front bushings I'm afraid. Not only did Richard have to enlarge the ID of the sleeves it turned out they were too long to boot. I had to cut about 0.3" off of the inside end of all the upper bushings, cutting them down to 1.5". After a little research I think I know what went wrong. Suspenstech sold me Prothane kit 6-210 which is for '72-'78 Full size Ford cars, not the earlier ones. It's all good now but I wish I would have known how much work this was going to be when I bought his kit. I see that now Dearborn Classics sells a full poly kit for these cars, hopefully it would be better than what I went through.
And as it turns out the engine alone wasn't heavy enough to compress the front springs so I had to use my spring compressor. I really don't like using a spring compressor even though I think I have a pretty nice one. All that stored energy scares me... maybe I'm getting to be an old geezer.
I still need to get the front shocks and sway bar off the red car to install on this chassis. I'll build the brakes next and then the steering links.
I ordered a new oil pan and pickup yesterday. My Canton T-pan would require too much trimming of the front cross member for my liking. Hopefully this one with fit with no trimming. It's Milodon 31130 with it's associated pickup.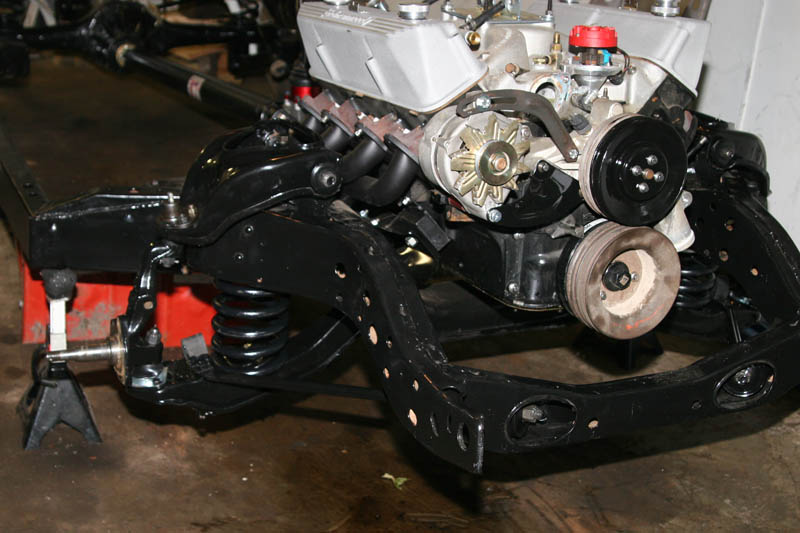 The family went to Iowa last weekend to visit family, I missed them, but I got lots of time to work on the car.
One of the first things I did was try out the Milodon 31130 oil pan. Although it claims to fit all production chassis up to '73 it does not. It touches the lip on the front of the cross member. I could grind and weld it up as others have done, but I really don't want to. I heard from someone on FordFE.com forum that the Canton 7 quart pan would fit. I've ordered one of those and will use whichever one fits best and send the other one back.
I got the disc brakes assembled and the frame is now sitting on it's wheels. I decided to put the old brake pads on for the time being, I was concerned that the penetrating sealant used when I blackened the rotors might foul them. Once they are polished up I'll put on the new pads.
I also fabricated a little bracket to hold the polyurethane sway bar mounts out of 1 1/2" C channel. I really have been loving fabrication lately, now that I can weld :) And I owe it all to being able to see through my Miller Elite welding helmet, dang I love that thing.
I started disassembling the red car in preparation for the body switch. The grill, radiator, and bumpers are off. The rear 4 body mounts are unbolted, the seats and carpet are out. The floor pans are in amazingly good condition. A little surfaced rust in the front which I'll hit with POR-15.
The body switch day is July 5th. I've rented a fork lift for the weekend. Should be fun :) I thought a forklift will be the safest way to go both for me and the car. We'll see.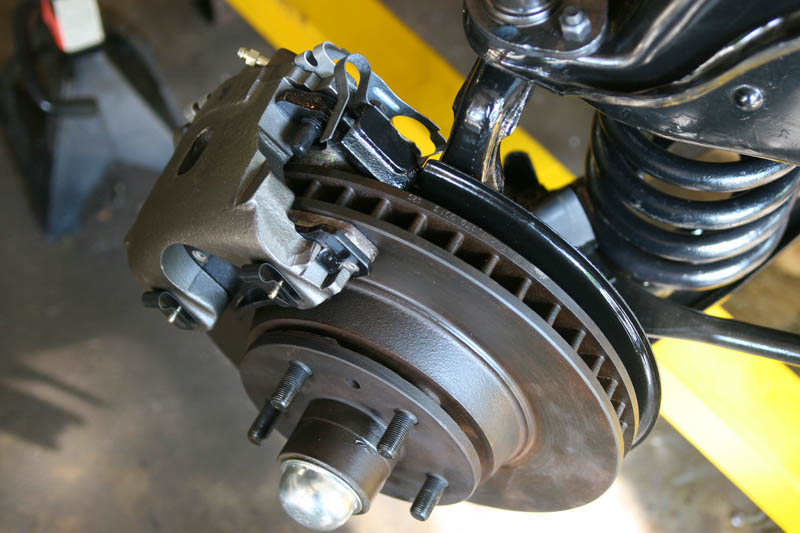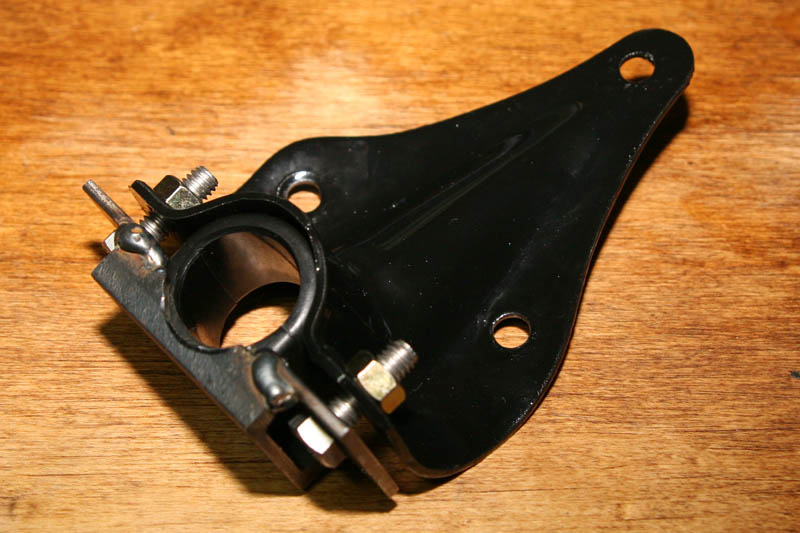 Last week I got the Canton 15-850 7 quart pan and it fit really well with nice clearance everywhere. It has a lot of nice baffling and even trap doors to keep the oil at the sump. So it gets the nod for the Galaxie. I may hang on to the Milodon for my '66 F-100. I have a 10 quart big truck pan for it but that seems a little silly. Then, since the pan fitting was done, I pulled the 390 out of the new frame and put it on the stand to replace the rear main seal and paint it.
I also got some stuff I ordered from Jegs to build the exhaust. I got 3"-2 1/2" reducers, an X crossover exhaust kit, and 2 Dynomax "Hemi Super Turbo" mufflers. That will get me back to the axle I think. I'll need to buy some mandrel bent Us and some more pipe to build tail pipes. I plan to weld everything except use clamps at the muffler.
We were gone most of the weekend but Duncan and I spent 4 hours on Sunday evening removing the rest of the front clip and pulling the 289 / AOD and storing them in the shop. The shop and my office are getting really full of stuff for the car, you can barely walk through either area. I have just a little more work to be ready for "Fork Lift Day" which is July 5th.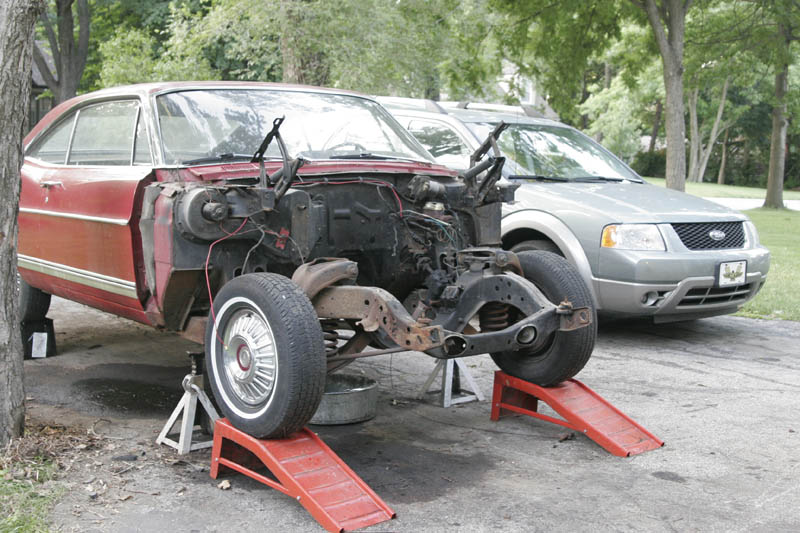 Forklift Day went GREAT, thanks in large part to friends Dave Penner and Bill Cook who came over to help. Everything worked exactly as planned, well maybe easier than planned. The forklift arrived at 10:30 and I think we were done with it by 11:00.
First step was to jack up the body and block it off the frame. We found that a 6x6 and a 2x4 stacked at the body mount above the rear axle and at the front mount worked out perfectly.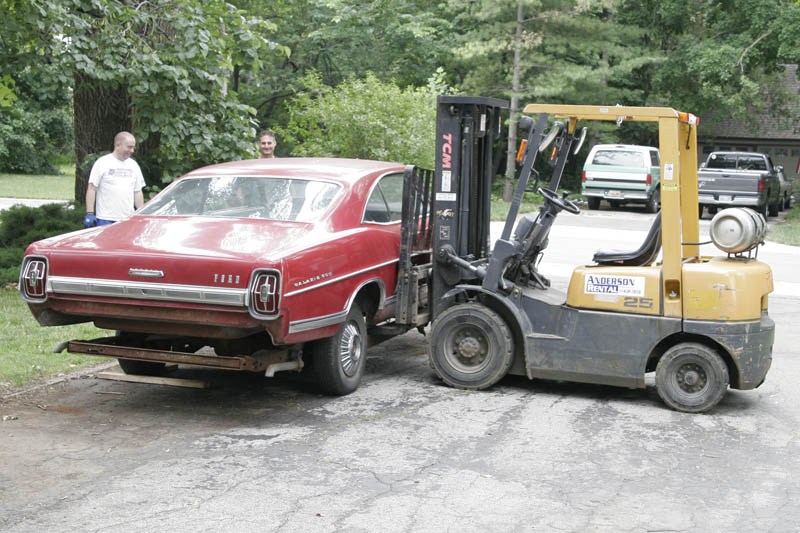 The forklift had extended tines that just barely reached the opposite side of the body. I was concerned about the balance point but found that basically heading for the door handle worked out fine.
We just lifted it up and rolled out the old frame.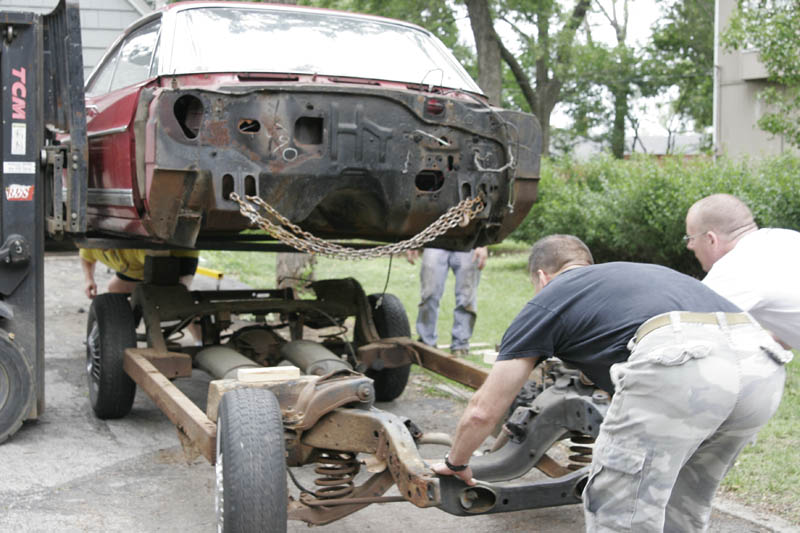 And rolled in the new one.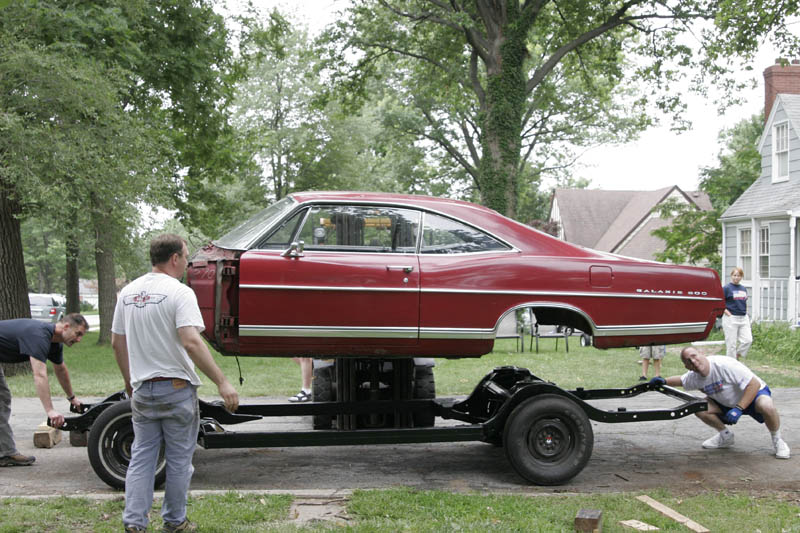 Then lowered the body back onto the blocks on the new frame.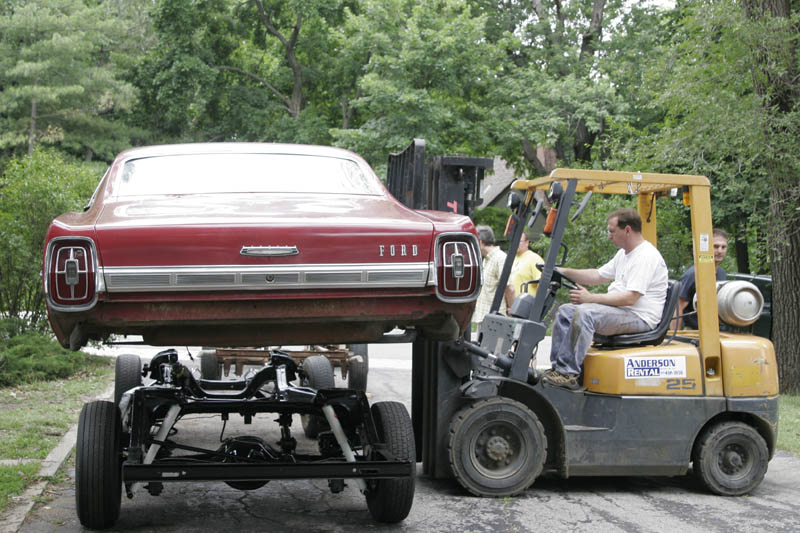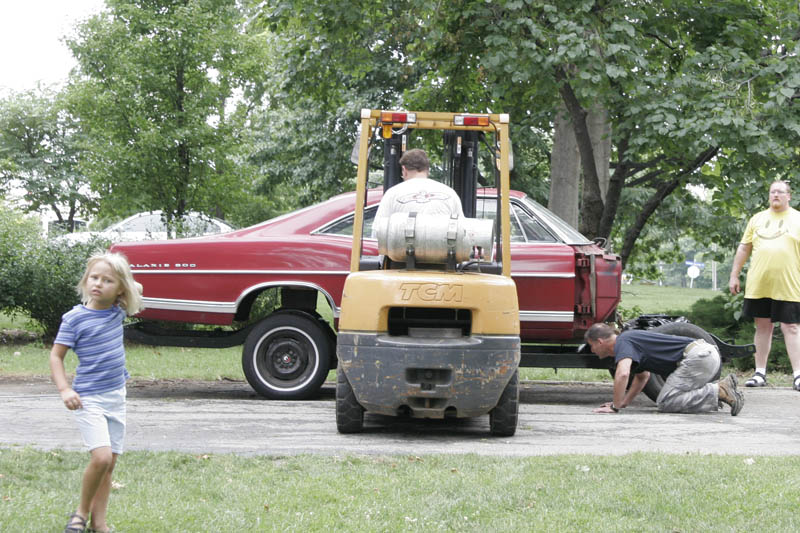 By the end of the day I had fabricated the new fuel line and lowered the body onto the new mounts. I just need to bolt them down in the morning.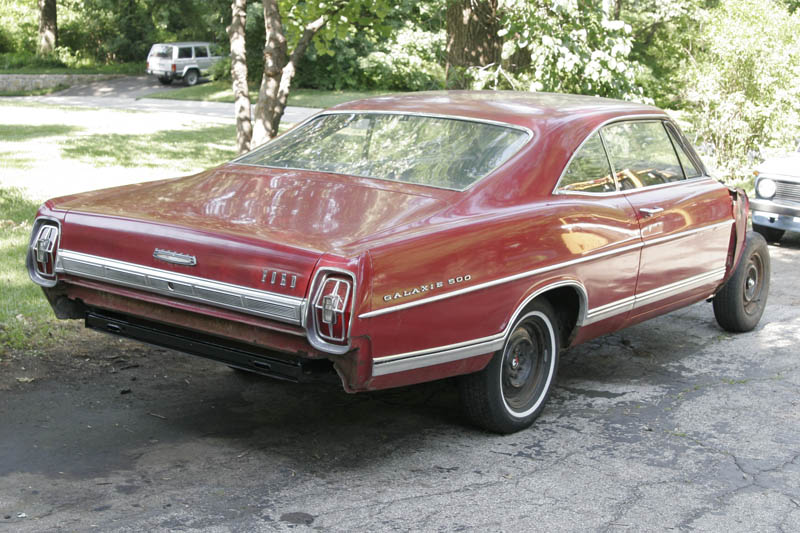 Wow sorry for the lack of updates. I've been working as fast as I can on the car and haven't taken time to update the website. After fork lift day Duncan and I put the car back up on 2 sets of car ramps and finished bolting up the body mounts. At that point any number of things could have been done, but I needed to replace the rear main seal in the engine (it always leaked in the cobra) and get it painted up. I wanted to avoid removing the heads and intake and was successful in that, but it was a pain. With the engine on the stand I unbolted all the rod caps and pushed each piston down in it's hole as far as I could. I should have taken the rocker shafts loose first but didn't so some of the pistons would not go all the way due to open valves. But anyway, the crank came out and a new seal went in. There was a little problem with the seal, I had overlapped it about 3/8" and there was a nick shaved out of it by the cap. This time I offset it very little and used some "Right Stuff" silicone in the side seals, this not only helps seal them but also lubricates them so they go in easier. Then to put the crank back in I cut extra long 6" long pieces of 5/16" clear plastic tubing to cover the rod bolts. Then I had a neighbor thread them over the crank throws as I lowered the crank. That worked pretty slick. I reassembled the engine and painted it Duplicolor Engine Enamel 1606 Dark Ford Blue. I think it's still a little lighter than I remember that color but it's pretty close. The valve covers and oil pump / Canton pan went on without issue. Except somewhere I lost the oil pump drive shaft so I had to use an extra I had for the 427. Audrey and I searched everywhere, I'm very curious where that thing will be found.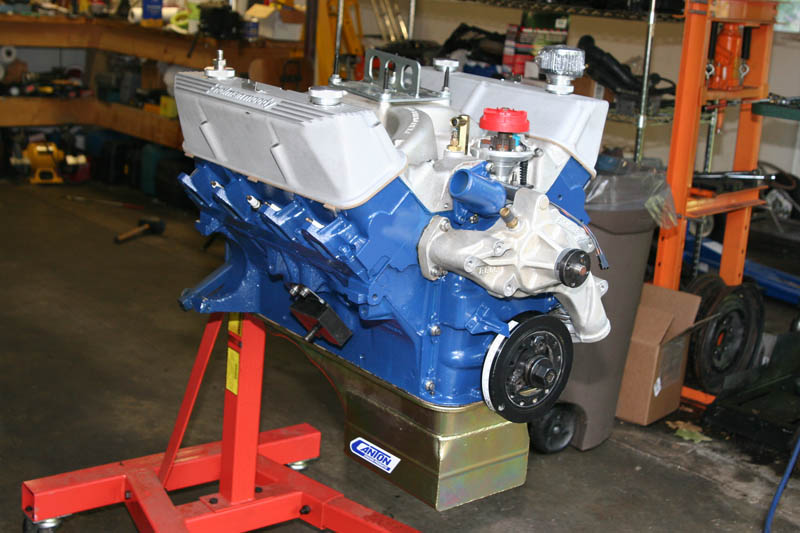 By thursday night, July 10th, we had the engine / clutch / transmission married back up for hopefully the last time. Again everything went without incident. On friday I installed the fuel tank and finished the brake lines up to the master cylinder. The front brake hoses are no longer available for this car so I had to fabricate steel braided lines using adapters I had to order etc.
I also modified the steering column to remove the automatic shift linkage and handle. I bought a blank lower section of the steering column head but couldn't find the top part. So mine still retains the lighted P-R-D-2-1 indicator, Oh well...
On Saturday afternoon Duncan, Evan and I put the engine and transmission back in the car and cut the hole for the shifter. The hole for the shifter ended up being pretty big. I'm going to have to find a big honking inside boot to cover it.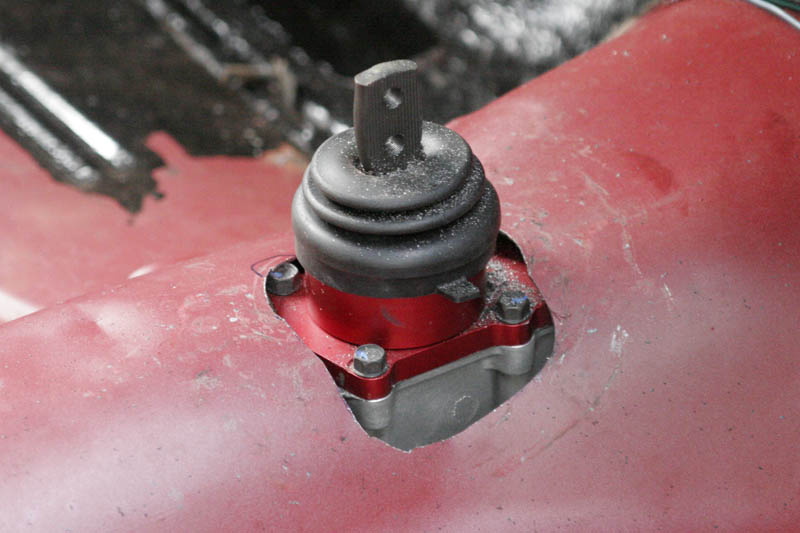 Here is a shot of the engine back in the car. You'll notice the headers are not in place yet. That's the job for first thing Sunday morning. Then the drive shaft, drive shaft safety loop, and beginning to fabricate the exhaust (Hopefully).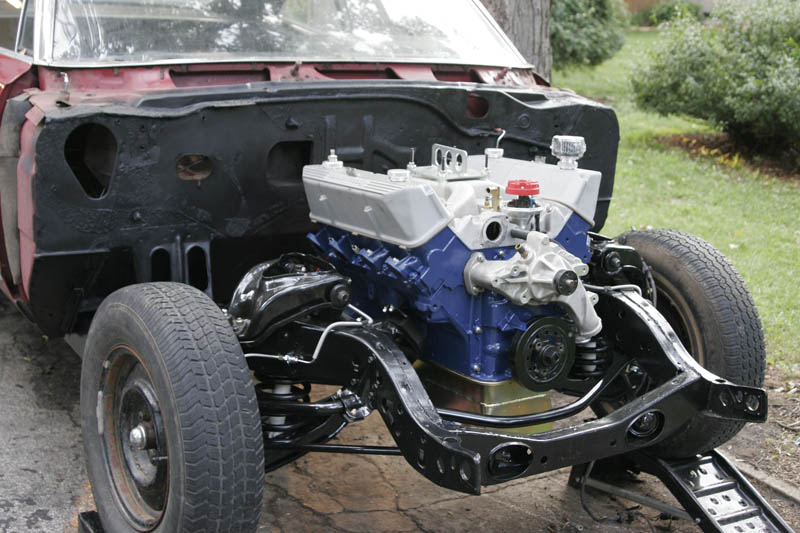 I started out the day by installing the headers. This took about 2 1/2" hours. I had to lower the trans and lift the engine to get them in. I can only imagine how hard it is with fenders in the way. But no real surprises. I did forget the starter so I had to take the left side back off to install it.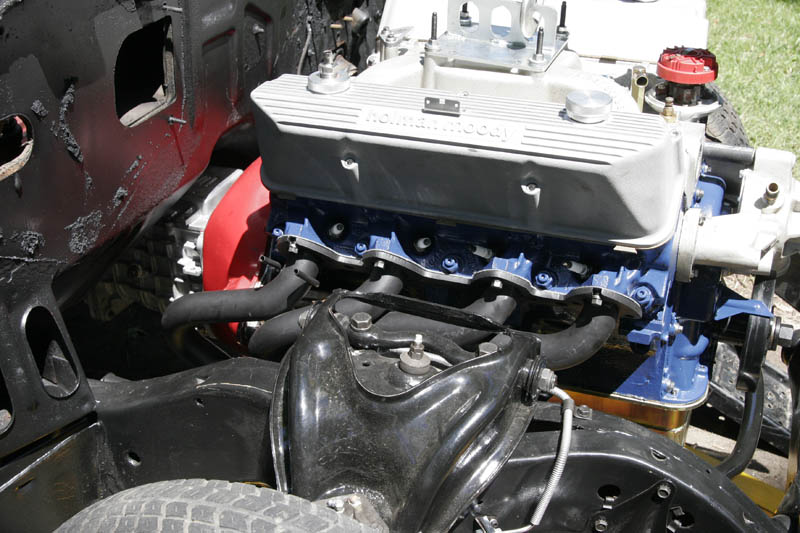 Next I installed a Lakewood Drive Shaft Safety Loop. This is required by NHRA and is intended to prevent the drive shaft catching on the ground if it should fail. It needs to be within 6" of the front U-joint so I wanted to install it now because I knew it would affect the exhaust. It took quite a bit of cutting to fit.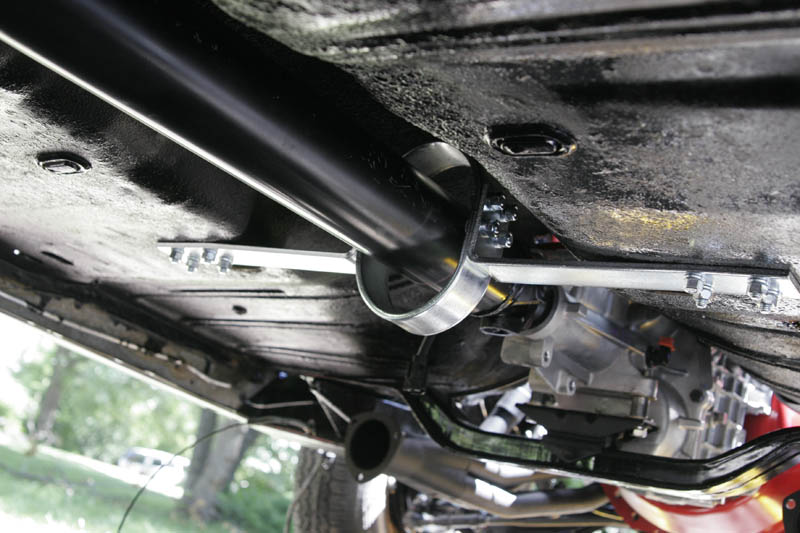 It also fell in the section of double walled floor pan where bucket seats would bolt. If we every go to buckets in this car we'll have to rework it.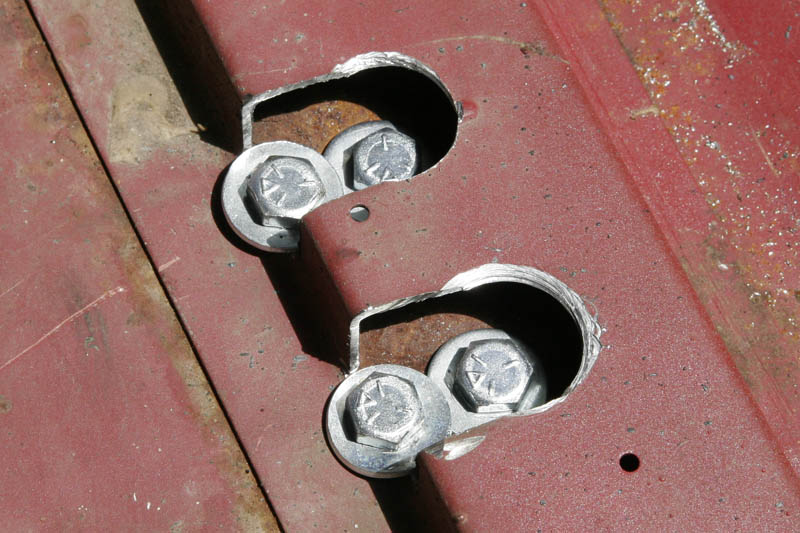 That takes us up to lunch time. After lunch I started building the exhaust. I had bought an X pipe kit and it really worked out pretty well. I bought a 5' section of straight pipe and used almost all of it as well. The nice thing about the X pipe kit is it is all cuts on straight pieces of pipe, it was really pretty easy to put it all together. I welded everything except the mufflers. It isn't pretty but it is my first attempt at building an exhaust and it all worked out pretty good. I haven't built tail pipes yet, but I will. I finally finished the exhaust at 9:00 tonight.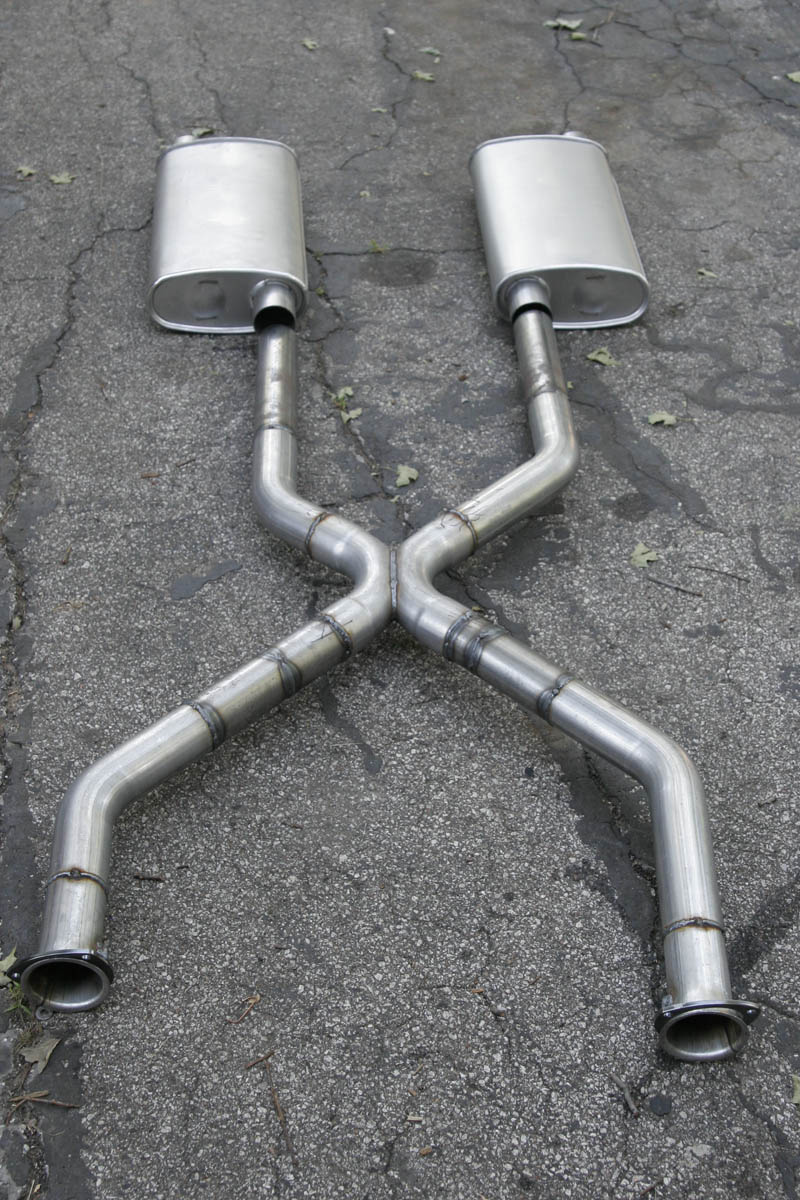 Well as you can see we didn't reach our goal of driving red car to Road America this year. Evan and I rented a KIA, very boring but got good gas mileage. We had a great time at the races, it was the Scarab reunion and we saw some incredible cars and met some very cool people.
Before we left we pushed the car into the garage and have been working on it there. It's a tight fit but I'm getting a bit done every night. The cluch linkage is installed and seems to work great. The brakes are all hooked up except for a vacuum line. And all the accessories are installed on the front of the engine. Still a long list of things to do but it's coming along.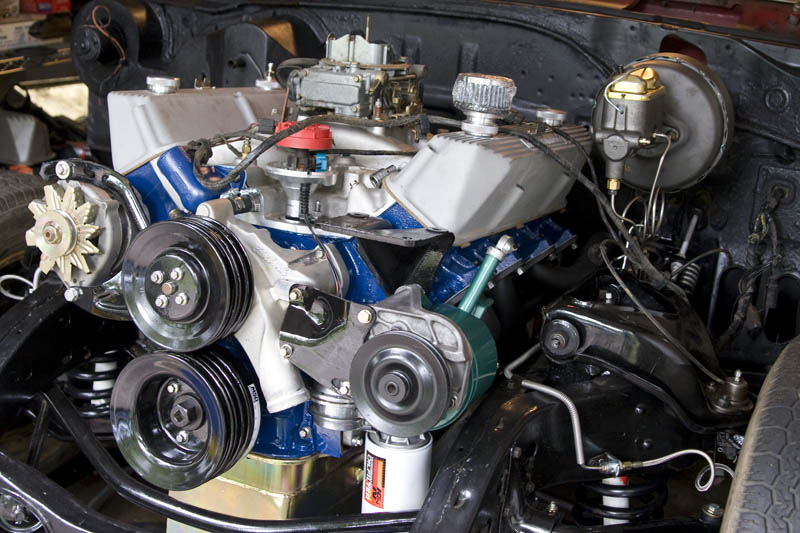 Progress is SLOW on red car these days. I'm sorry to say that work issues and family issues have bled off the head of steam the project had. Hopefully I can get that back and get the car finished soon. I do have the radiator support and inner fenders installed and am proceeding with wiring everything back up. Had a sad setback yesterday, the drivers side fender which was waiting patiently on the our patio got hit by a falling tree branch and now has a big dent in it. If it weren't for bad luck.... I've also started getting wheels and tires together. For now and for the winter I've decided to use the stock steel wheels with white wall all season tires. I am blasting each rim and powder coating it. It takes a while, about a half day per wheel but at the moment I have more time than money so that's what I'm doing.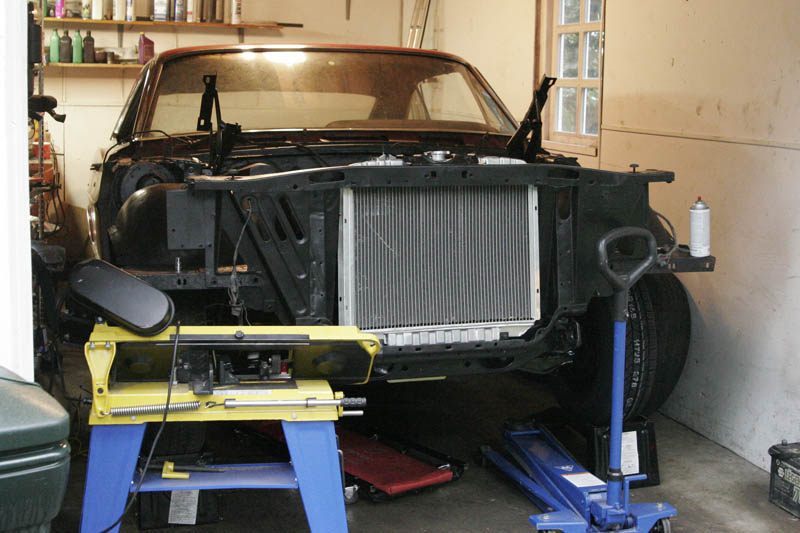 Sorry for the lack of updates on the Red Car project. I have started a new job this last month and that has taken a lot of extra time and energy. As of yesterday I have the fenders and hood back on and the car is sitting outside which makes it much easier to work on. Yesterday I ran all the new wiring for the MSD box, extra guages, and tachometer. I have a few little issues to address but if the rain holds off I may be able to fire it up today.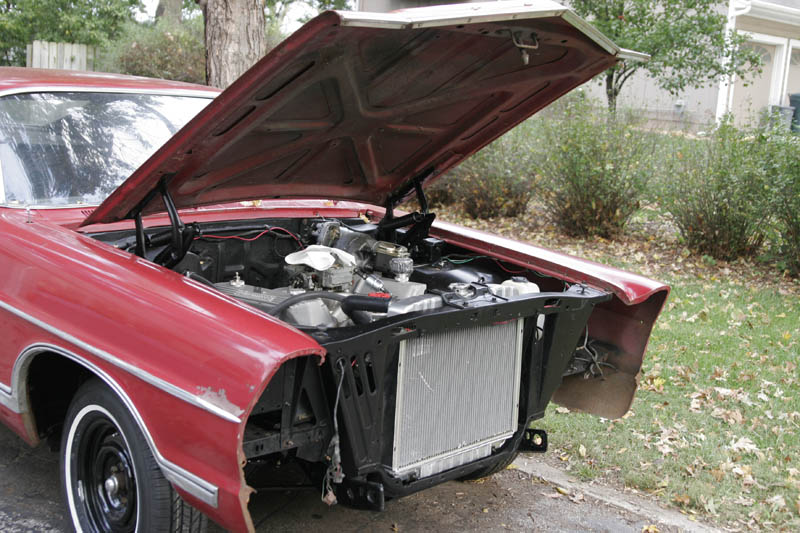 It's RUNNING! Although that probably isn't that surprising since it was running in the cobra. We did make great progress and fired it up today. We had a minor coolant leak at the thermostat. We did confirm that the clutch / trans / driveline works before shutting it off. Then we discovered a big problem with the brakes. Duncan and I went to bleed the brakes and we get barely a dribble to the rear brakes. My theory is that the proportioning valve or pressure differential valve must be stuck or clogged. So I'll have to tear into that which probably means taking the fender and inner fender back off for better access. That's not going to be fun but I figure I might as well bite the bullet and get it done.
Last weekend I removed the left front fender and inner fender and pulled out the Pressure Differential Valve and Proportioning Valve combo. I took them all apart and made new lines. Unfortunately I don't think there was any issue there. I did center the differential valve and install the '67 light switch. I think next I will blow out the lines to the rear with compressed air to confirm they are open. Then put the gizmo back in and try it again.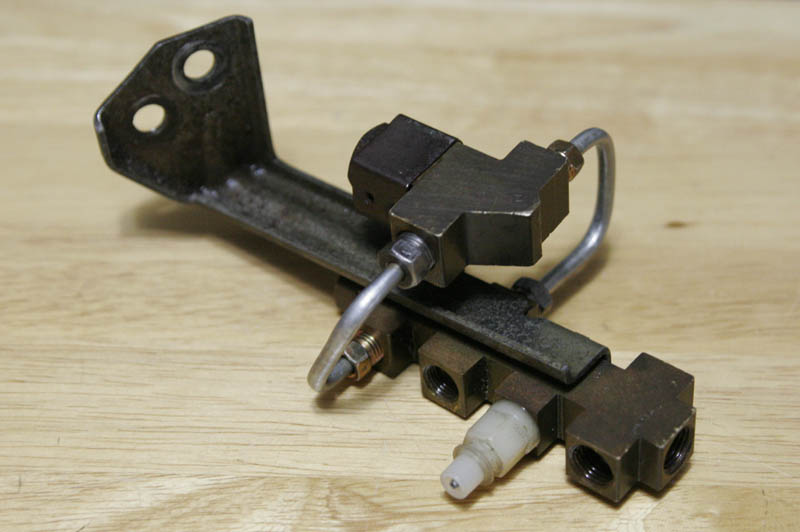 Wow, it's been a long time since I updated this. The brakes went back together just fine. After a lot of bleeding they all behaved normally and after hooking up the vacuum line the booster works great.
After a few hours of rework on some of the sheet metal damaged by rusted up fasteners when I took the car apart, I got the rest of the sheet metal, bumpers, grill and lights installed. We also put the seats and seat belts back in, no carpet yet because I still need to build a hump for the shifter.
I had cobra club friend Pat Bailey do the front end alignment at his shop Bailey's Auto Service in Olathe, KS. I trust them and they know how to work on older cars. Everything seems to have gone well with the alignment.
I drove it to work a few days last week but it wasn't running very good. I was using the 600 cfm Holley from the 289 which is too small for the 390 and probably needs rebuilt. I thought about putting the 750 HP that was on the engine in the cobra back on but it doesn't have a choke. As a daily driver I really need to be able to get in and go without a lengthy warm up period so I really need a choke. I decided to give Quick Fuel carburetors a try as I have heard good things about them. They are "Holley - like" carburetors with some improvements and nice features. The model I got is the SS-750 Super Street which has an electric choke and mechanical secondaries. I should be able to get it installed today and see how well I can get it to run. Idling is always a challenge with this cam.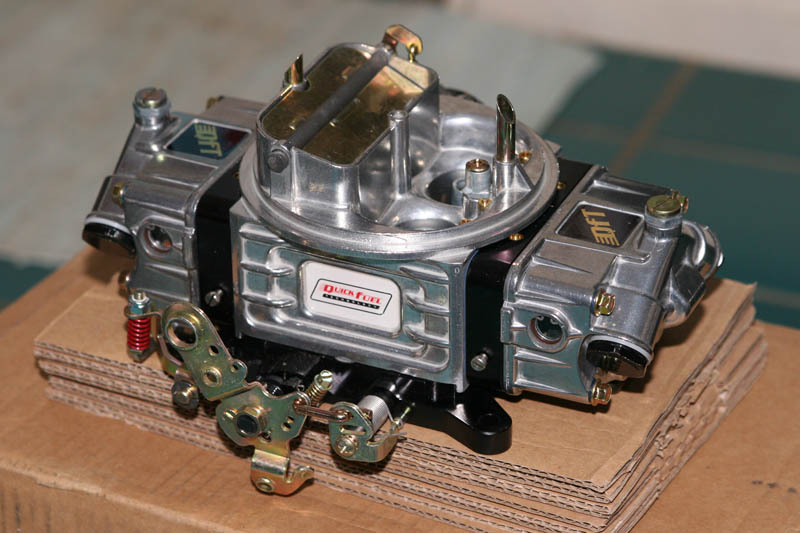 The new carburetor worked out quite well, it took me quite a while to install it though because I decided to make a steel braided line from the fuel pump to the factory style fuel rail. I was building the hose on Sunday and being new to this proceedure, ended up twisting off the straight fitting. I couldn't get a new one until tuesday. Tuesday night I got the hose made and tried out the carburetor. Right out of the box it ran pretty good. I turned the idle up a bit and have been driving the car to work all week. It still takes a while to warm up but runs good once it does. I will fiddle more with it tomorrow.
Today I worked on some exhaust leaks. The left side header to reducer gasket blew out so I replaced them with some soft aluminum ones. So far they are holding. I also had a header gasket blow out, so I replaced it with the copper ones I had been using on the Cobra. It sounds a lot better now, but I really need to make some tail pipes. I ordered some U bends and 90s that will be here on wednesday so maybe I can get them built over thanksgiving.
I thought I'd put up some pictures of the car in it's mostly together state. I still need to make a hump for the shifter and put the carpet in. It's coming along though and it's nice to drive it to work.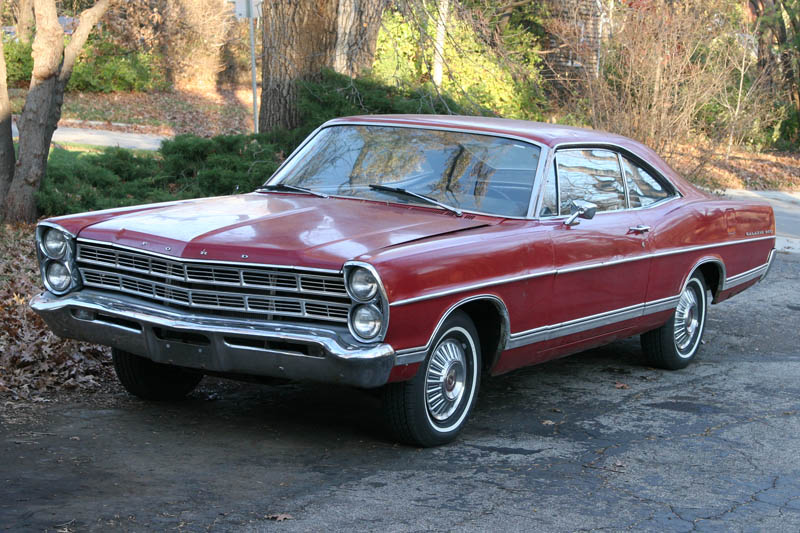 I had some time this weekend so I decided to make the tunnel hump for the shifter and get the carpet put in Red Car. I made the tunnel hump by tuck shrinking a flat sheet of .025 aluminum. It turned out okay for something that will be hidden by carpet. I made a tucking fork out of two punches. Then went around the outside making tucks and pounding them flat. (well actually some of my tucks became folds).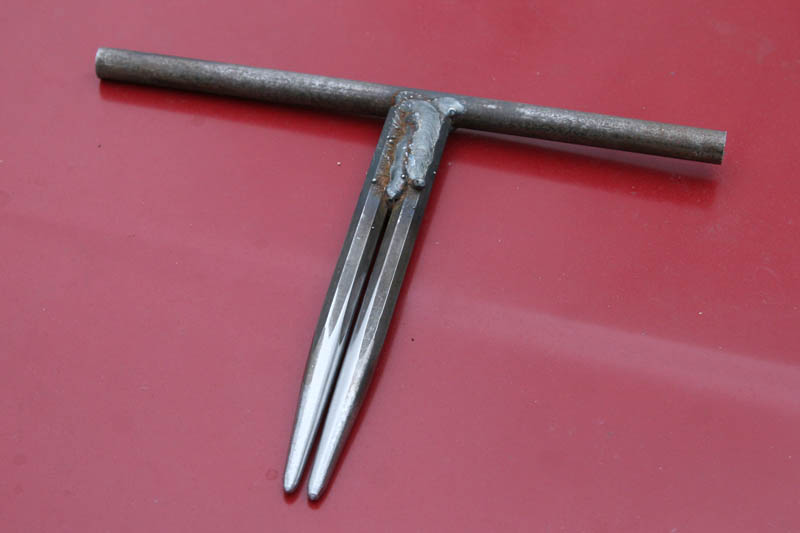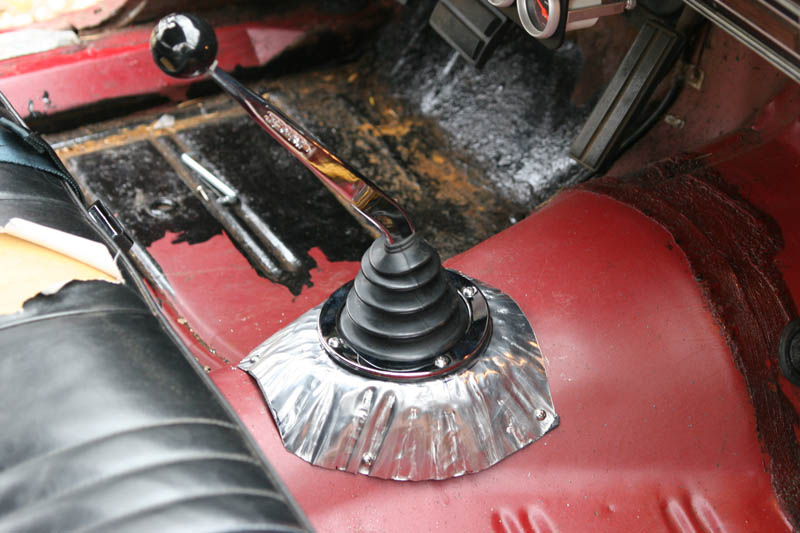 Happy Father's day everyone! I should update you on the Red Car project. After putting 4000 miles on it after the rebuild as my daily driver there started to be some alarming noises. The throw out bearing appears to be going out, and there is what sounds like a rod knock developing. So I've decided to bite the bullet and fix it right, and pull the motor. I also think the Isky cam is a bit much for a heavy daily driver so I think I'm going to switch cams to a Comp 270S. My friend Gordon thinks he'd like to try the Isky in his Cobra so I'll save it for him.
So that is the plan, and this being Father's Day and all I thought it would be a good day to start working on my Dad's car. I got up this morning and put the back end of the car on car ramps and took off the drive shaft and exhaust. I couldn't resist starting it up just once with open headers, it sounded tough. Next we'll start draining fluids and pulling the engine / transmission as a unit.